Blog
Six core improvements to a better site search experience
by Klevu on
Search has been a big focal point for online retailers for a number of years now, with requirements becoming more and more mature. Global leaders in online retail, such as Amazon, eBay and Apple have invested heavily in being able to address all types of queries, which has trickled down to smaller retailers. In addition to depth and accuracy, aspects like usability, speed, the ability to manually merchandise results, reporting etc have become de facto requirements for even small merchants.
As mobile becomes the preferred method of accessing the internet, and of shopping online, this focus on search will undoubtedly remain at centre stage role for the foreseeable future. Retailers therefore need to examine their current on-site search offering, identify its weaknesses and limitations, and identify how to deliver a best of breed search experience to their customers. This can be a daunting prospect for retailers, who often understand their business perfectly well, but aren't so hot on usability issues or the customer journey. The six steps outlined below go a long way towards a key requirements list for an optimal on site search experience.
Utilise natural language processing
Retailers looking for a new site search tool should insist that any replacement uses natural language processing (NLP) within its search algorithm. If you've noticed that Google's search results have got an awful lot smarter in recent years, that's largely because Google has pioneered the use of NLP technology in its own search, and NLP has now found its way into ecommerce site search too. Put simply, NLP-based tools use a context and meaning based algorithm, rather than simple pattern matching of keywords.
This produces much more relevant results and eliminates the frustration experienced by visitors when confronted with pages of seemingly unrelated results, or the dreaded 'no results found' page. We tend to find that this is one of the primary requirements for larger customers, purely because it allows for longer tail queries and reduces the amount of manual work that needs to be done via a trading team.
Use instant search to speed up the process & reduce errors
Online shoppers can easily make mistakes when using on site search, and an auto-suggest or instant search solution can go a long way towards reducing the impact of such mistakes. After the first few characters of a search query are typed in, a dropdown box appears, displaying either search phrase suggestions or actual search results, with prices, product names and thumbnail images. Category level suggestions can also be included. Internally we refer to this as the InstantSearch UI, however it's more commonly known as a type of auto-suggest.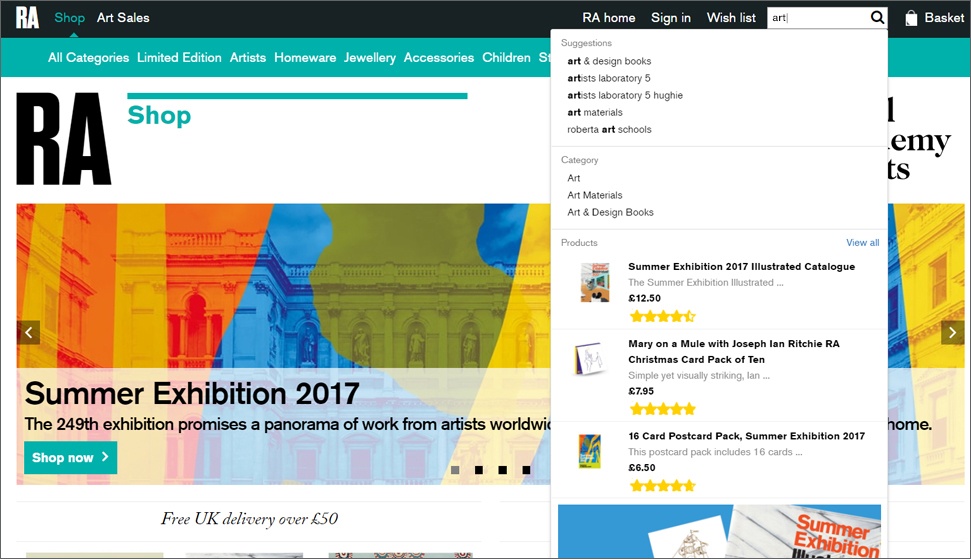 The above image is from The RA website, who have allocated a lot of time to improving their search over the last 12 months.
This reduces the chance of error in the search phrase and pushes the visitor towards the most likely results as quickly as possible, all without the need for a full results page load. With speed being so important in ecommerce, especially for mobile users, presenting relevant results to visitors so quickly offers clear benefits to merchants, and typically results in significant improvements in conversion rates.
Merchandising search results
Having retrieved an accurate and relevant result set for a search query, those results should be presented to the visitor in as coherent and consistent way, to maximise the chances of products being added to the cart. Another big selling point of Klevu is that we allow customers to retain the native Magento search results page, meaning you can keep the look and feel the same as the rest of the site. This is not only great from a UX perspective, but it also makes the front-end of the site more maintainable. An example of the benefits of retaining the native page layout can be seen below.

This example is from the Royal Academy of Arts store (another Klevu customer), which uses labels from Magento and ratings from product reviews, amongst other things.
Merchandising is taken for granted in bricks and mortar stores, yet online, it can often be overlooked, especially in search result pages. A non-merchandised page can look chaotic and confusing, and can lead visitors to abandon their journey, in favour of a store that makes it easy to find exactly what the shopper wants to buy. Merchandising of search results can take a number of forms, including displaying prices, price breaks, configurable options such as colour or size, alternate product thumbnails and merchandising badges, such as sale stickers. In Klevu, products can also be weighted, either manually or via rules, to push certain products (or product attributes) to the top of the results.
Indexing of non-product content
The ability to serve different types of results is something that we're seeing more and more – be it content pages, forum pages, blog posts, guides, videos etc. With more and more retailers investing heavily in 'content & commerce' and lots of publisers investing in 'direct-to-consumer' eCommerce stores, this is getting more and more common. In adddition to this, more maintraim retailers are now switching on to the idea that on-site search on ecommerce sites should include more than just the product catalog.
If a visitor searches for information, rather than a product, of course it makes sense to provide that information in the search results. Including non-product content in on-site search results does require a change of mindset from retailers, who often see this as potentially distracting visitors from the business of adding products to their basket and checking out. However, research has found that visitors who use search to look for non-product content are more likely to leave a site if they don't find that information.
The example above is from our customers Baby Bunting, who are a large baby products retailer based in Australia.
The type of information that could be displayed within search results might include returns policies, bricks and mortar opening hours or store locations, size guides, product datasheets or specifications, how-to guides, product videos and related blog content. All of this feeds into the customer journey and acknowledges that not every visitor is at the stage on that journey where they are ready to commit to purchasing. By offering the information that the visitor requests, the store can reassure the visitor and remove obstacles that stand in the way of purchase intent.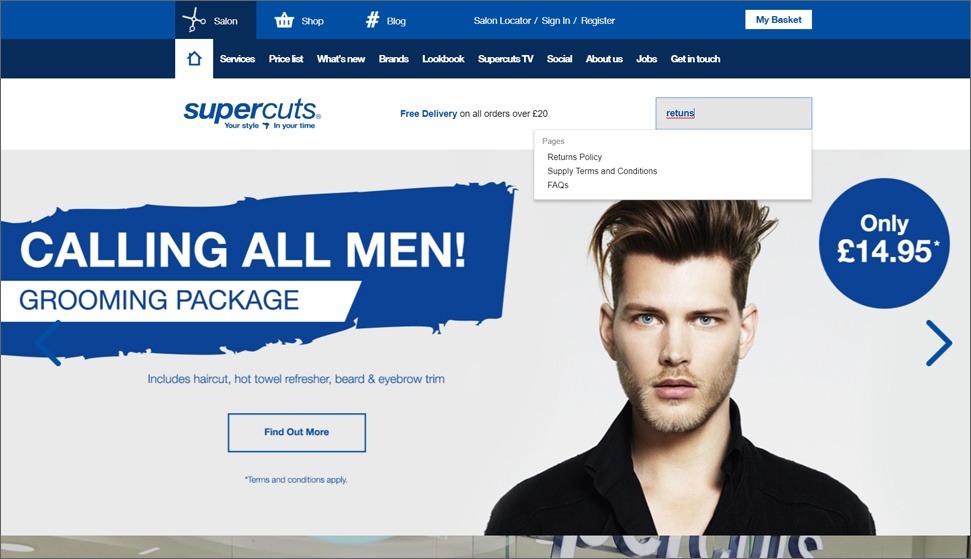 This example is from our customer Supercuts, which includes content pages and blog posts, as per the example. Our partner Pinpoint did the integration.
Another opportunity for merchants is to display products within content sections of a website – which is something we're doing more and more with our customers. An example of this that we're due to launch is a large B2B and B2C store which has a number of high traffic content websites and a forum, which will now display products via an instant search UI in the same way as their Magento store. This will allow them to channel users through to product pages quickly and easily.
Faceted search
Whilst NLP-based search tools reduce the likelihood of vast and confusing result sets, there will still be times when a visitor is presented with a large number of products (particularly with generic queries) and the ability to refine those results to a smaller number is an essential means of helping the visitor reach a decision. Faceted search has been a part of the eCommerce landscape for some time now, but it is becoming more and more sophisticated in the latest search tools and best practice recommendations. Visitors should be able to refine by criteria such as brand, size and colour, of course. Other criteria are now also being included within faceted search, such as customer ratings, bestseller rankings, and whether or not the customer has purchased that product in a previous order.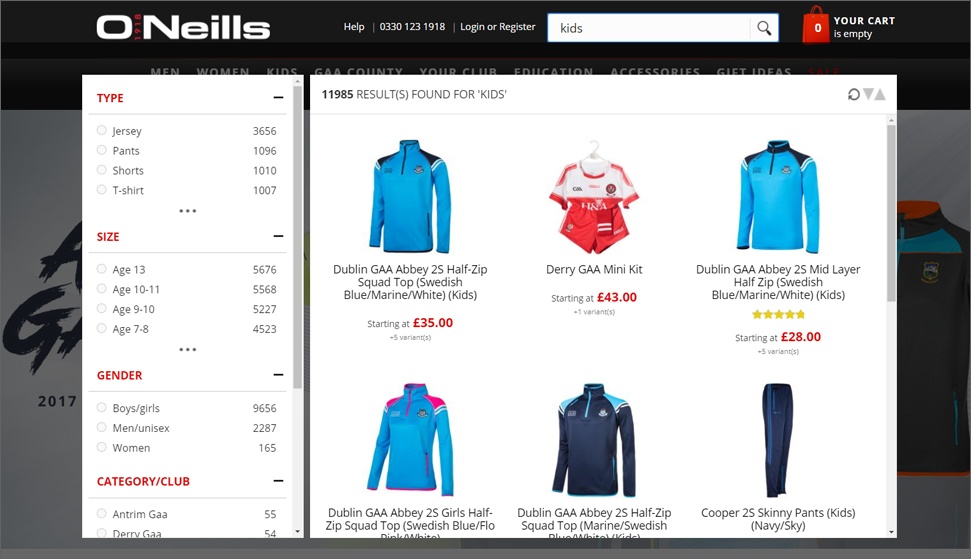 One thing that we've built into Klevu recently that we believe adds a lot of value, is the dynamic filtering – so the options change with the query. The above example from oneills.com shows how the size filter options have changed because the query is "kids".
Where possible, displaying results with faceted search options already checked can be really helpful for visitors – for example, a search for 'red shirts' could deliver the shirts category of a website, with the colour option 'red' already pre-selected. This positions the visitor perfectly to either proceed with viewing the results or considering the faceted search, to see whether the results could be refined further.
Search as primary navigation
Amazon and eBay have long positioned their on-site search as the primary navigation tool on their sites. After all, when was the last time you used the category menu to actually browse either of these sites? Whilst few other retailers have yet embraced this approach for their own sites, there are clear signs that on-site search is taking a much more central role in the design of many sites, especially within mobile-focused designs.
Search boxes are becoming much bigger, and more centrally positioned. Some retailers are positioning their on-site search within a guided purchasing framework, which aims to walk the visitor through their customer journey by asking them a series of questions about their intent, or steering them through a series of click-through prompts, to deliver the most accurate results. Yamaha MusicSoft (a Klevu customer) is a good example of a merchant who have gone down this approach with a search-centric navigation system, it seems likely that this will become a much more mainstream approach in the near future.
In the meantime, retailers should ensure search is promoted as the simplest and most effective way to shop within their store, and they should be confident that the tools powering their on-site search are smart enough to support this.
For too long, on-site search has sat meekly in the top right corner of many online stores, delivering a patchy service, and adding little to conversion rates and order values. With competition for online sales fiercer than ever, and with mobile usage looking set to dominate the online sector going forward, now is the time to shake up your on-site search offering, and adopt a best practice approach to search technology and implementation. With the latest search tools delivering astonishing ROI and conversion improvements, improving on-site search is one of the simplest ways of gaining a competitive edge and boosting sales.
If you would like to learn more about best practice for eCommerce search, please feel free to get in touch with us. We're happy to provide a demo of or even just provide feedback on your existing technology.