Benuta Had a Surge in Search Led Revenue Within 2 Months
170%
increase in search sessions since implementing Klevu
18%
increase in e-commerce rate
220%
increase in search led transactions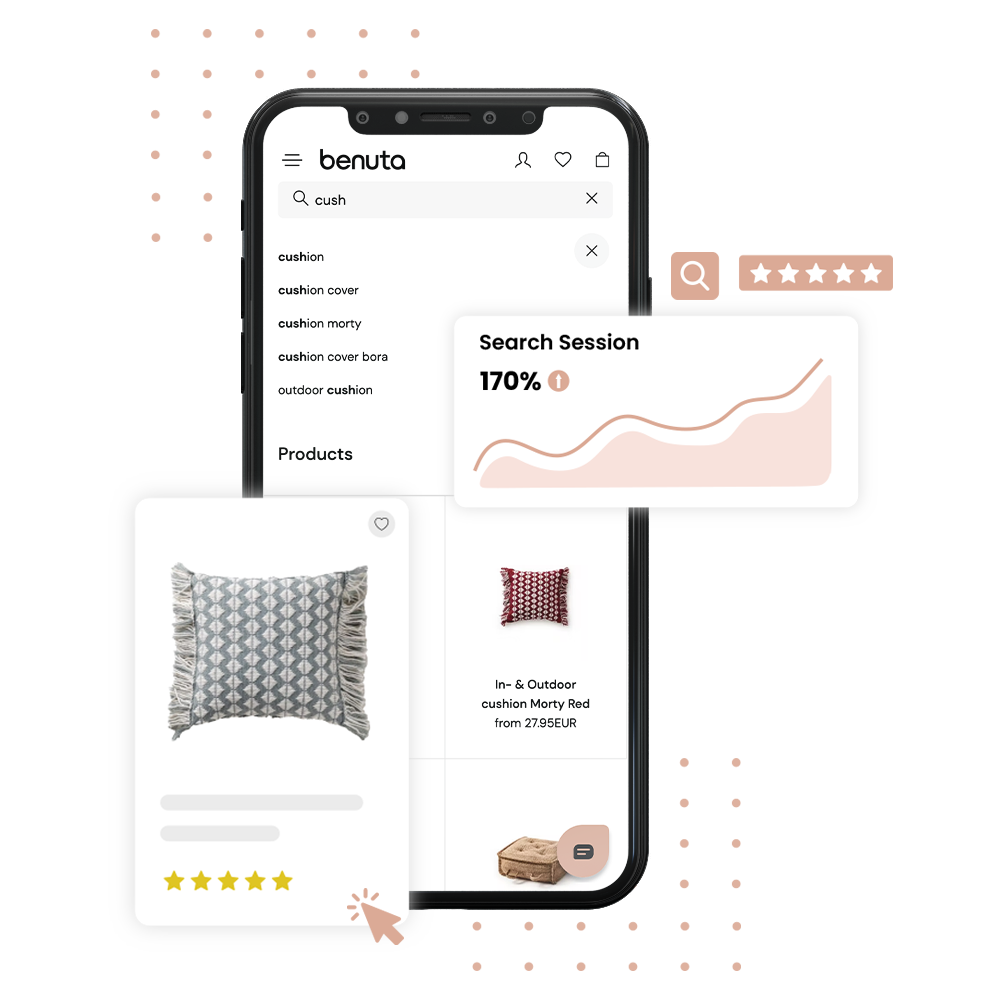 Platform
Magento - Adobe Commerce
"During February and March 2020 we saw that 8% search sessions accounted for 27% of total revenue"

Alex Schramm, COO at benuta GmbH
---
Knowledge is power and Benuta certainly did their research before integrating a third party on-site search solution. But in the age of information overload, how do you choose the best solution for your tech stack? Based on a strong partnership with Adobe, Klevu understands the nuances and particularities when it comes to launching third party tools. Within a few days, a test period was launched and Benuta was able to deep dive all features – they haven't looked back since.
---
Benuta is a Magento veteran- they have long used the platform and native search functionality to showcase rug collections which are bought and loved, globally. However, Benuta needed a competent on-site search solution for their 11 multilingual stores, globally to improve user experience and deliver intuitive responses within the search bar.
So how did Klevu make the winning bid in a sea of 2020 technologies?
"That's easy to answer, because we were in touch with competitors", explains Alex Schramm, COO at Benuta. "Klevu was very convincing because our first contact was really sympathetic and regarding technical questions seemed to be highly competent. We are running on Magento 2 Commerce Cloud and compared to some competitors, I got the feeling that the guys from Klevu know what they are talking about and that I could trust them, no matter if I am talking to a technical wizard or 'the sales guy'."
Smashing It
---
| | |
| --- | --- |
| Smart Search | Fast, user friendly and easy to configure |
| Rule-based Merchandising | Dynamically boost/de-boost specific products based on product attributes or rules |
| Contact and Support | Access to Klevu support with a quick response time |
A Klevu customer since November 2019, Benuta have already identified their top 3 favorite features:
---
"I think the most impressive KPI is conversion rate for users with 'visits with site search' compared to 'visits without site search' in our YoY comparison"
"During February and March 2020 we saw that 8% search sessions accounted for 27% of total revenue"
Fast and User Friendly
Quick loading results and filter options within search help Benuta meet their challenge of delivering a better user experience to increase sales whilst improving customer satisfaction from first click to checkout.
Data Driven Insights
Real time reporting within Klevu gives Benuta the visibility they need to analyze searches and make improvements. All information is in one place with free and detailed documentation.
Search & Discovery Demo & Consultation
Uncover growth opportunities for your ecommerce business
Easy Implementation
From download to install and configuration to inclusive testing on staging environments the total project took 2-3 days to go-live.
"After evaluating opportunities with our built-in elastic search and several third party-tools we chose Klevu because the features worked really well from the beginning. "Everything is really intuitive and easy to configure. You don't need any technical background for configuring the module- just follow the steps in support docs and Klevu search is live within minutes." Alex Schramm, COO at benuta GmbH
---
"It was quite pleasant for me that we did not hold up with needless sales processes"

Alex Schramm, COO at benuta GmbH