Product Recommendation Engine
Enchant your shoppers with our AI-powered recommendations engine
Take control of your ecommerce strategy with our recommendations engine. With a variety of features at your fingertips, you'll be equipped to curate an unforgettable shopping experience that keeps your customers coming back for more.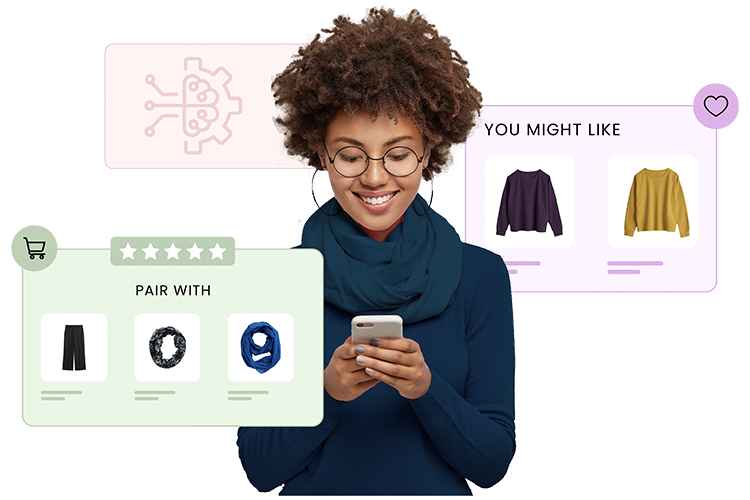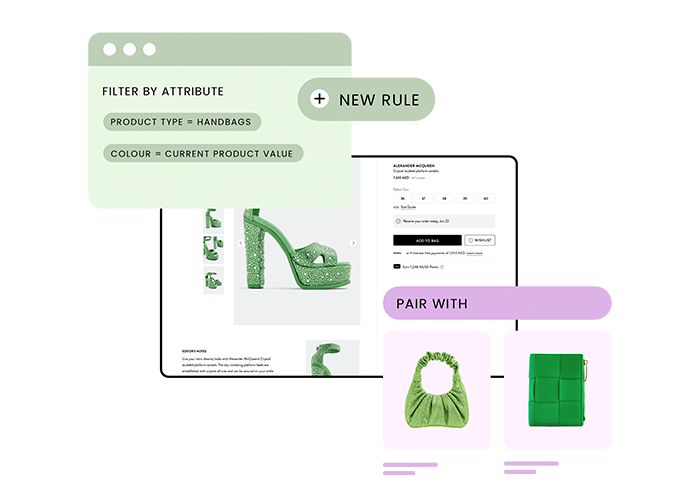 Custom Logic
Tailor product recommendations to suit even the most specific strategy
Seize control over your cross-selling and upselling strategies. No longer do you have to rely solely on standard algorithms. You can now implement your own custom logic based on any available attribute to guide shoppers toward products that convert. Whether it's spotlighting high-margin items, clearing out seasonal stock, building a look, or complementing a popular product, the power is in your hands.
Similar Products
Expand shopper's horizons with harmonious product alternatives
Take advantage of the AI-driven power and turn each product view into an opportunity for added value and enhanced customer satisfaction. Our AI-driven system identifies patterns and connections to recommend products that align with customers' interests, enhancing their shopping journey and increasing the likelihood of finding a product they love.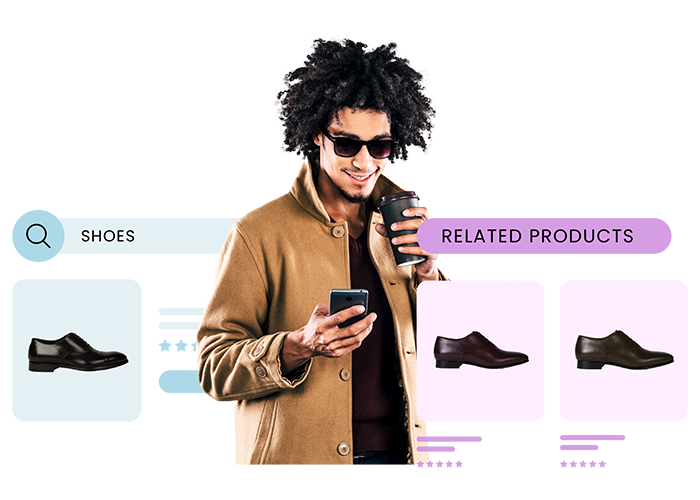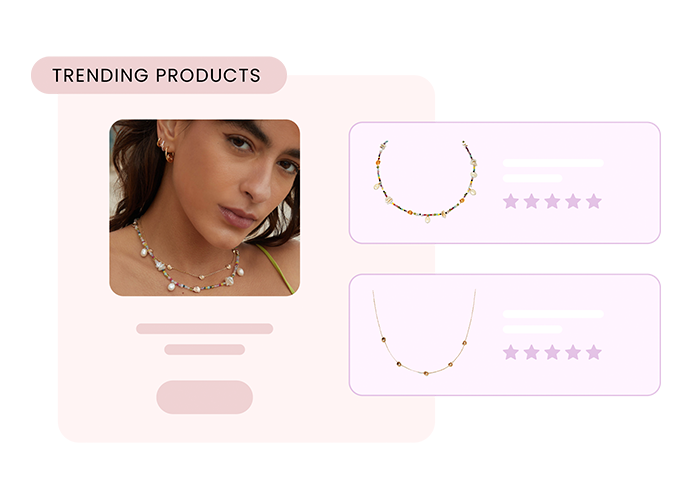 Trending Products
Unleash the power of collective choice
Staying in tune with shopper trends is no longer a challenge. Our AI-driven engine scans and identifies trending items based on real-time shopper behavior, ensuring your product offering remains fresh and relevant. By highlighting these in-demand products, your customers are always one click away from discovering the latest must-haves. Boost engagement, increase conversions, and build a loyal customer following by tapping into the power of collective choice.
Bought-Together Products
Maximize sales with a symphony of perfect pairings
Harnesses the power of AI to detect patterns in purchasing behavior. It identifies combinations of products frequently bought together, transforming these insights into tailored recommendations that your shoppers will appreciate. Every product view becomes a chance to offer your customers more value, enriching their shopping journey while promoting additional sales.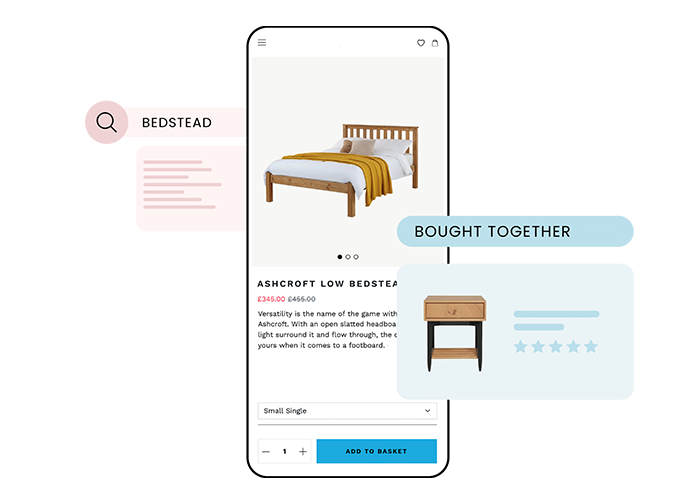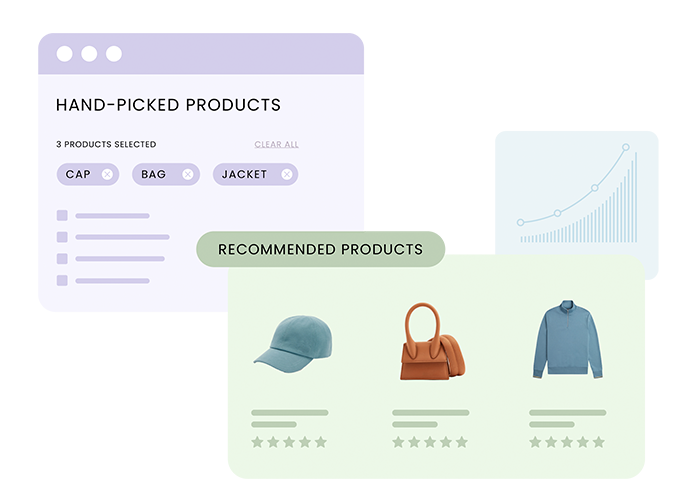 Hand-Picked Products
Lead the way with your curated choices
Take personalization to new heights with our Hand-Picked Products feature. This tool allows you to curate a unique shopping journey by showcasing items you've selected from your catalog. It's more than selling; it's creating a memorable, tailored experience for your customers, leading to increased engagement and sales.
Visually Similar Products
Open a world of visual discovery with similar product recommendations
Our advanced image recognition technology takes product recommendations to the next level. By identifying visually similar items from your catalog, we offer shoppers a unique, intuitive browsing experience. Let them explore and discover more products they love, solely based on their visual preferences. This feature opens a new avenue of engagement, enhancing the shopping journey and driving increased customer satisfaction.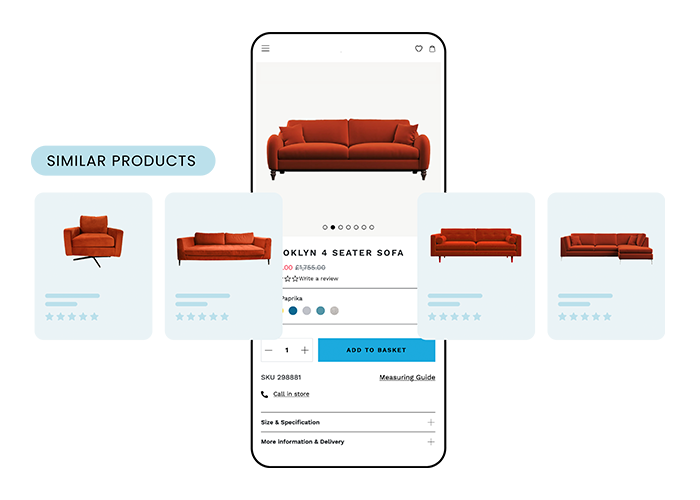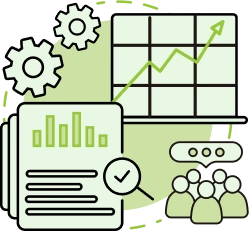 Ecommerce Search & Discovery Audit
Uncover growth opportunities for your ecommerce business
Grow revenue with better search & product discovery
Increase revenue per web session by 37% with Klevu Search & Product Discovery Platform.
Continuously optimize and drive growth faster
Deliver relevant search & product discovery results with Klevu's powerful and personable search, merchandising, and recommendation engine built exclusively for ecommerce.
Understand customers on every level
With Klevu's deep integrations with your ecommerce platform, our AI can understand nuances based on customer behavior and intentions which you can analyze.
Faceted Navigation
Smart faceted navigation that replaces native functionality
Power user-friendly personalized product discovery through relevant filters with easy-to-use controls, automation, and a fully composable front end.
Visual GUI Editor
Easily switch off or on for individual Klevu products, and edit how the solution looks and works using pre-built templates.

Filter analytics
Reduce click to purchase by reviewing Filter Analytics to discover more about your shoppers' preferences and use the data to optimize landing product listing pages.
Fine-tune product results using easy-to-apply strategic rules, product pinning and exclusion, and simple drag-and-drop interfaces.
Promotions
Display curated and personalized banner content in search, categories, and more. Schedule start and end dates to optimize campaign planning.
Automated Merchandising
Automatically re-order products in search results, categories, and product recommendations blocks by a mix of shopper behavior and strategic rules.
Optimize major campaigns, uncover new tactics, reduce friction in the customer journey and avoid missed opportunities for revenue growth.
Client Testimonials
Here's why retailers Klevu
"We've found that using Klevu AI increases AOV, on site customer experience, CLV, and ROAS."
"Now with Klevu, we have time and resources available to focus on scaling the business."
"Klevu really works out of the box. We have been impressed by the flexibility of the APIs – straightforward, well documented, stable and working as advertised."
"Klevu has allowed us to bring a feature set to our client that allows their customers to shop more efficiently."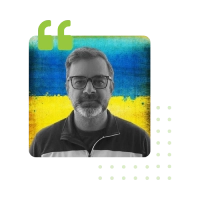 Let's grow together
Take the next step, tell us your goals, and let us exceed them together.