NLP for Ecommerce
Make your customers feel deeply understood, at scale
Klevu has the most human-centric based NLP, specifically designed for ecommerce, and one of the most comprehensive, included in Gartner's Market Guide for Digital Commerce Product Discovery.
Natural Language Understanding
Understanding human-machine interactions
Connect shoppers with products they want to buy. Sharing shopper intent data across your product discovery journey delivers unparalleled customer experience and a healthy conversion boost.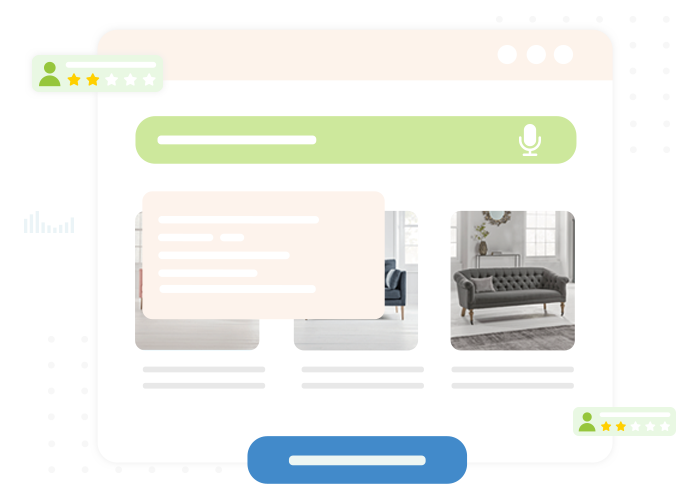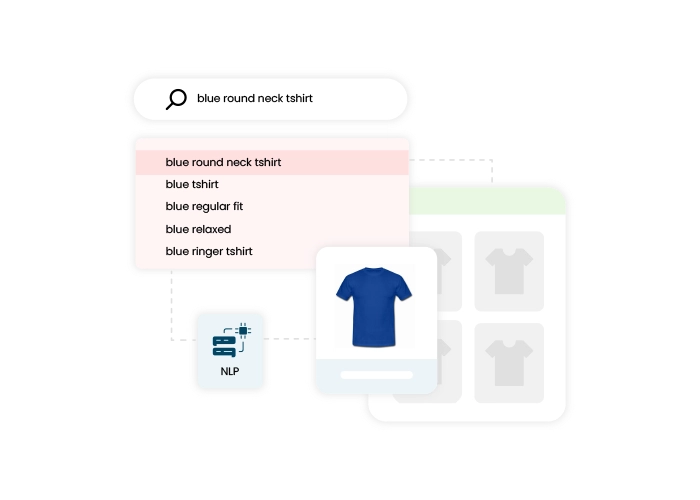 Natural Language Processing
State-of-the-art NLP technology
Klevu encompasses linguistics and computer science to make natural human language understandable to machines. By parsing search queries and content, Klevu understands intent and meaning and automatically presents the most relevant results.
Klevu AI
How Klevu AI works
Klevu AI encompasses linguistics and continuous machine learning to improve online shopping experiences. Klevu shines in a crowded search & product discovery market because of the comprehensiveness of the AI offering, and how it impacts user experience.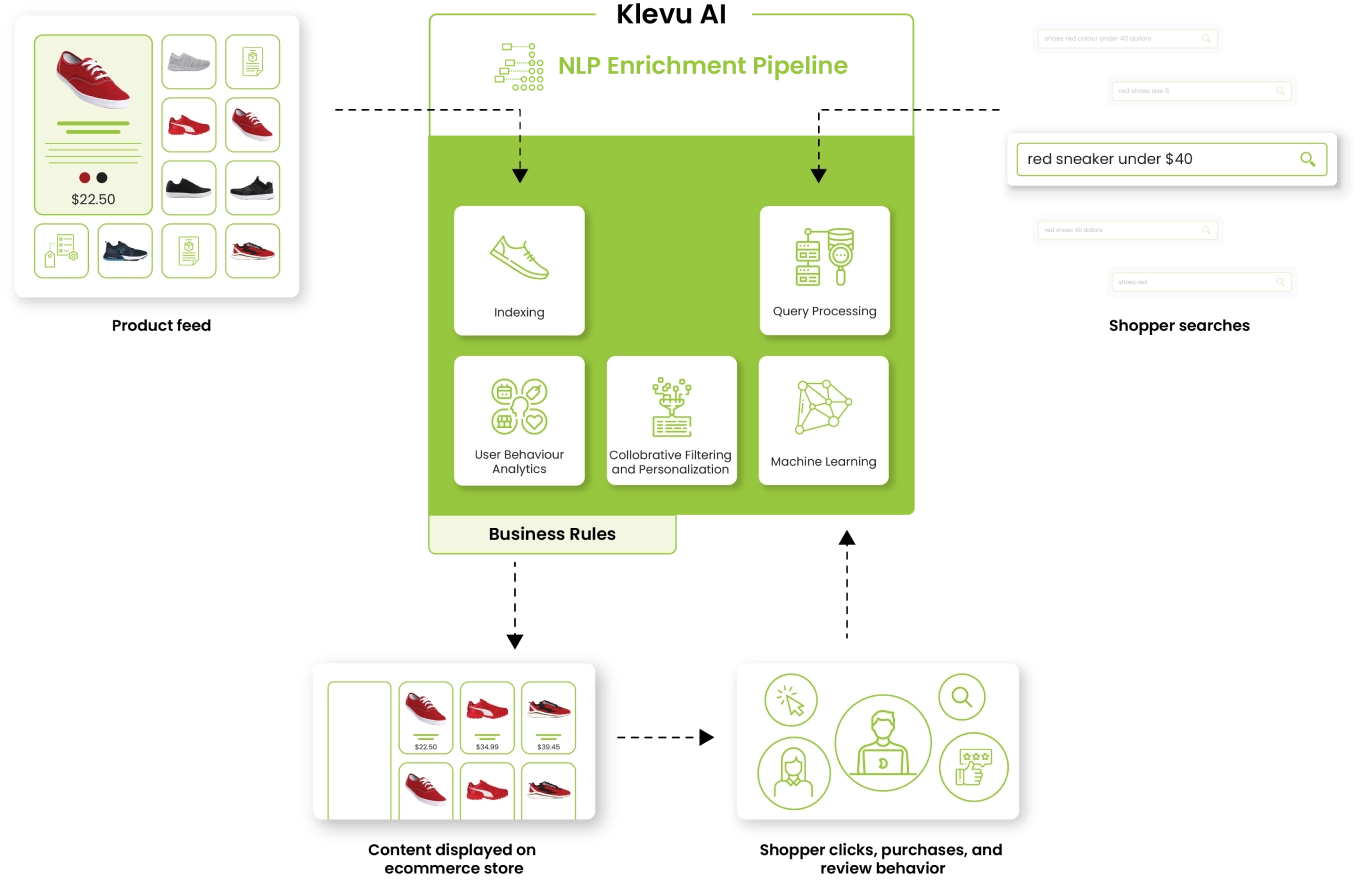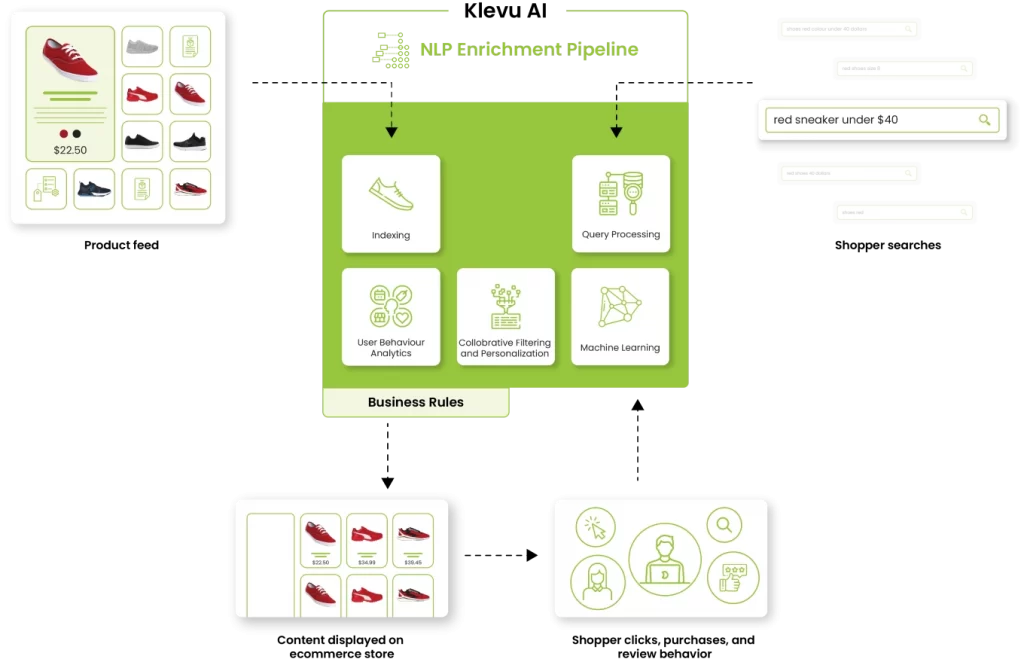 Klevu AI Lab
Continuous experimentation in the Klevu AI Lab
We have an in-house AI lab that consists of research scientists that continue to experiment with linguistics and machine learning to find the most cutting-edge use cases and technology that we then apply to our existing products. We are constantly innovating new ideas in visual discovery, natural language processing for ecommece, conversational commerce, and predictive analytics.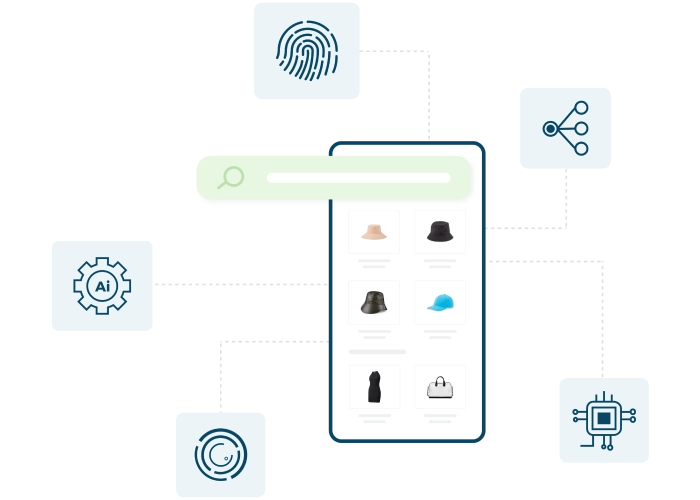 Klevu NLP Features
Everything you need to create great search experiences
Power user-friendly personalized product discovery through search with easy-to-use controls, automation, and a fully composable front end.
Product Data Enrichment
Without any prior learning, automatically and manually add synonyms, normalize measurements and index that enriched data in real-time, and expand your product data by 2-3x without any manual work.
Semantic Query Processing
Klevu processes and understands what the shopper means when they search, considering the context of the store, to improve the quality of the results.
Word Function Recognition
No matter the length or the complexity of the query, Klevu processes and understands what the shopper means when they search, including articles, stop words, inflections, and price points.
Price Parsing
Klevu comprehends price relativity from a search query and can pre-filter search results.
Attribute Normalization
Klevu automatically normalizes and enriches a product catalog, including age, gender, sizes, weights and measures. This allows shoppers to make very specific searches that return results automatically, without manual inputs.
Decompounding
Klevu can break complex words into their simplest forms to better understand shoppers' queries.
Content Search
Klevu can index and show non-product data in the search results. This could be anything from how-to guides, customer service pages, articles, blog content, look books and more.
Typo Tolerance
Typos in search terms? No problem! Klevu will automatically handle typos and show relevant results.
Stop Words
Klevu identifies and understands stop words to get to the heart of the buyer's intent. (eg. "iPhone case" vs "iPhone with the case")
Inflections
Klevu AI understands what your shoppers mean even if they use words with inflections.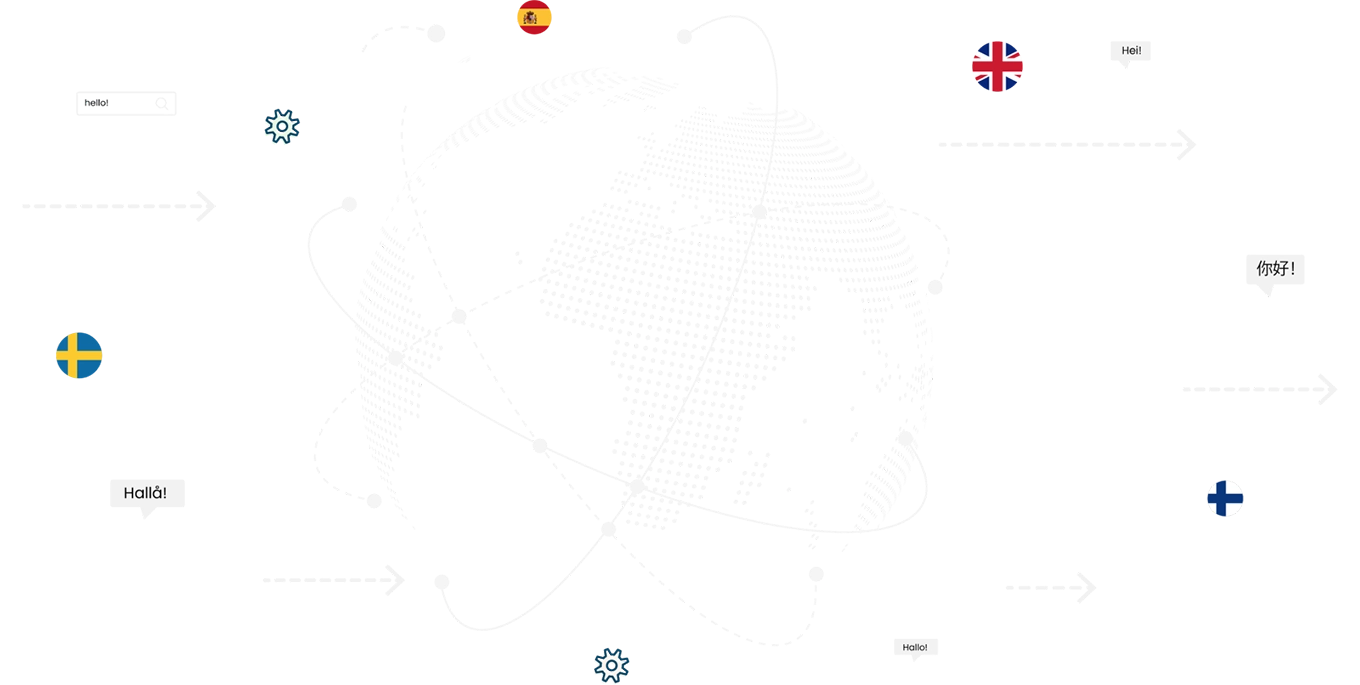 Multilingual Search Capabilities
Localize at scale with Klevu's multilingual capabilities
Klevu uses advanced natural language processing and localized machine learning to determine what shoppers want in almost any language. Those language and cultural preferences are nuanced and impossible to get right with manual merchandising. Klevu AI automatically learns from local shoppers to display products most likely to convert specifically in each region.
Support Services
Technology that works and people who care
You don't have to do it alone. Ensure you have a support team by your side that is highly responsive, knowledgeable, and hard-working.

Client Testimonials
Here's why retailers Klevu
"We've found that using Klevu AI increases AOV, on site customer experience, CLV, and ROAS."
"Now with Klevu, we have time and resources available to focus on scaling the business."
"Klevu really works out of the box. We have been impressed by the flexibility of the APIs – straightforward, well documented, stable and working as advertised."
"Klevu has allowed us to bring a feature set to our client that allows their customers to shop more efficiently."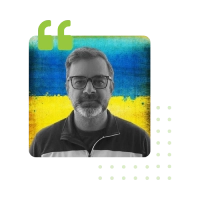 Let's grow together
Take the next step, tell us your goals, and let us exceed them together.