Conversational Commerce Search
Introducing MOI: Chat GPT for search and product discovery
MOI, which means 'hi' in Finnish, is a new experimental search conversations AI chat tool. MOI is smarter than your average chatbot, built using a clever mix of Klevu AI and Open AI, and is designed to improve the on-site search experience and challenge what's possible within conventional search.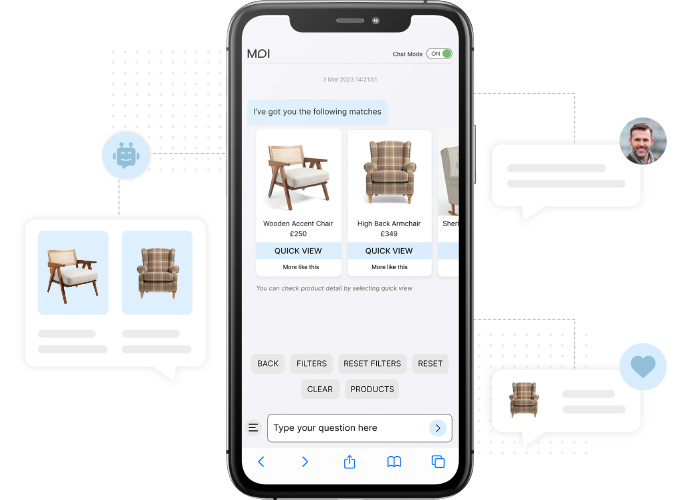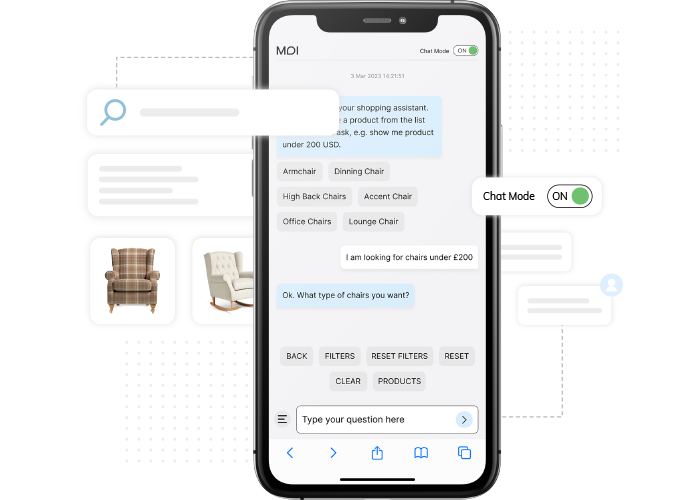 AI Chat
Easily toggle between chat and search
Many shoppers already use the search bar on a website to get more and more specific each time they search for something. Now, with Klevu AI Chat for search, shoppers can ask your website questions, and have a conversation, just like with an in-store assistant. They can even switch easily between search and chat.
Conversational Merchandising
Easy-to-use dashboard with robust functionality
Conversational commerce merchandising made easy through Klevu's easy-to-use dashboard. Fine tune search results within an easy-to-use dashboard and preferences are updated in ecommerce search and in MOI. Or don't have time? Just let Klevu AI do its thing.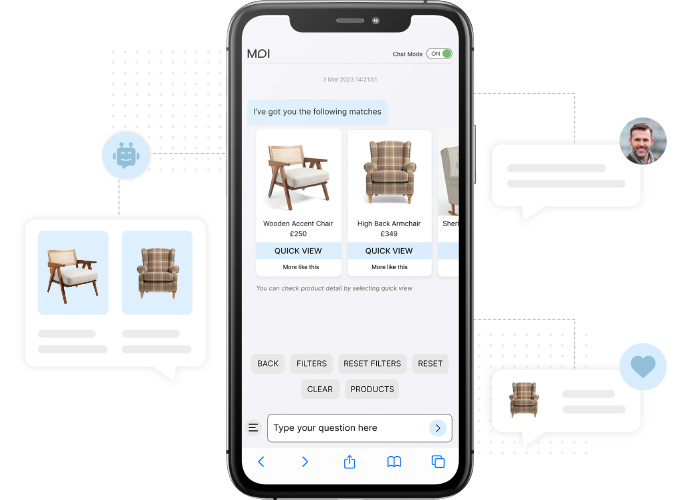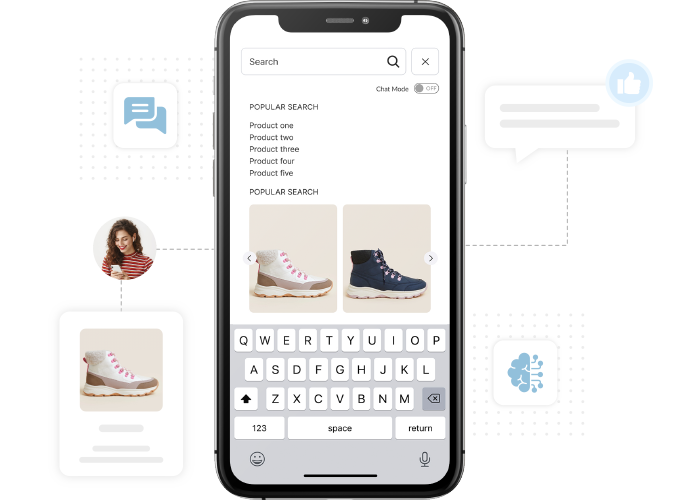 Conversational Commerce Personalization
Personalized AI chat using machine learning
MOI allows shoppers to ask for information about any data that is indexed by Klevu, including product descriptions, attribute data, popularity and sentiment from reviews and more. MOI is able to understand almost anything it's asked, give guidance, and personalize product results.
Customize algorithms to suit your goals. Clicks, purchases, and product reviews influence the AI to optimize results, dynamically driving more revenue.
Your shoppers deserve the most advanced linguistic processing to help them find what they want on your website.
Using clickstream, segmentation, and collaborative filtering, you can use Klevu to personalize even new and anonymous web visitors.
Architecture & Infrastructure
Scale your store with cloud-native and headless technology
Unlock limitless scalability and agility for your ecommerce store with our cutting-edge headless architecture and our secure, cloud-native infrastructure.
Klevu is the most advanced AI product discovery technology in the MACH Alliance. We challenge how modern retailers, brands, and solution integrators think about headless architecture.
Scalable, fast, and secure, Klevu offers a 99.99% uptime guarantee, real-time status reporting, global data centers for failovers and load balancing, and dedicated infrastructure options.
Ecommerce Integrations
Easily connect Klevu AI with your ecommerce platform
Advanced AI technology isn't just for giants like Amazon anymore. Ensure a smooth development process with Klevu documentation and 24/7 support. Effortlessly build your own integration using our SDKs and APIs or use our pre-built ecommerce connectors and JavaScript library.
Let's do this
We are currently in private beta with 20 customers. Join the waitlist to be the first to know when Klevu MOI is ready for market.