Sweet Success: How Craft Company boosts email revenue by 6% with Klevu & Klaviyo
76%
click to conversion rate of new Klevu Search flow in Klaviyo
6%
additional email revenue from Search Abandonment Klaviyo flow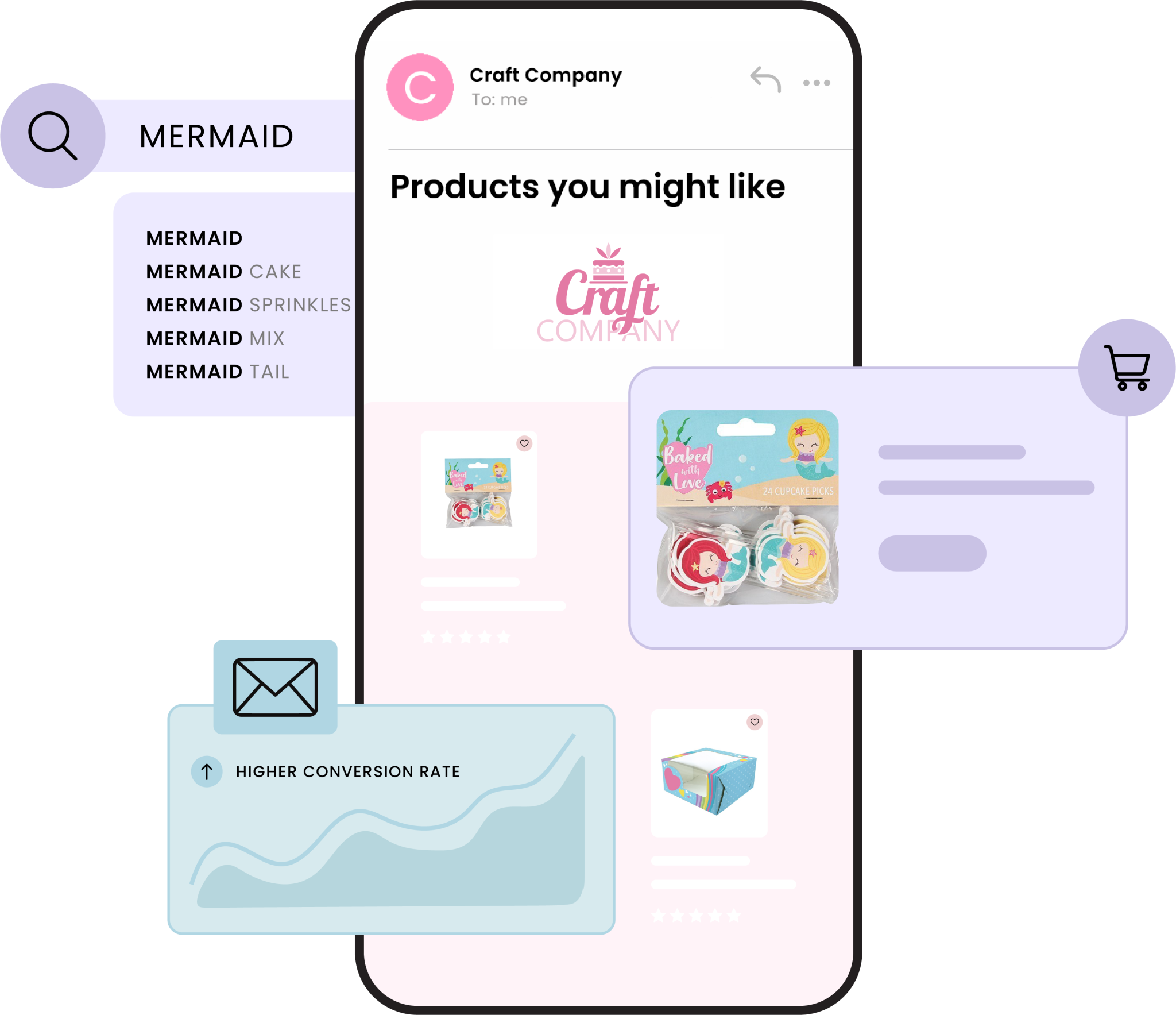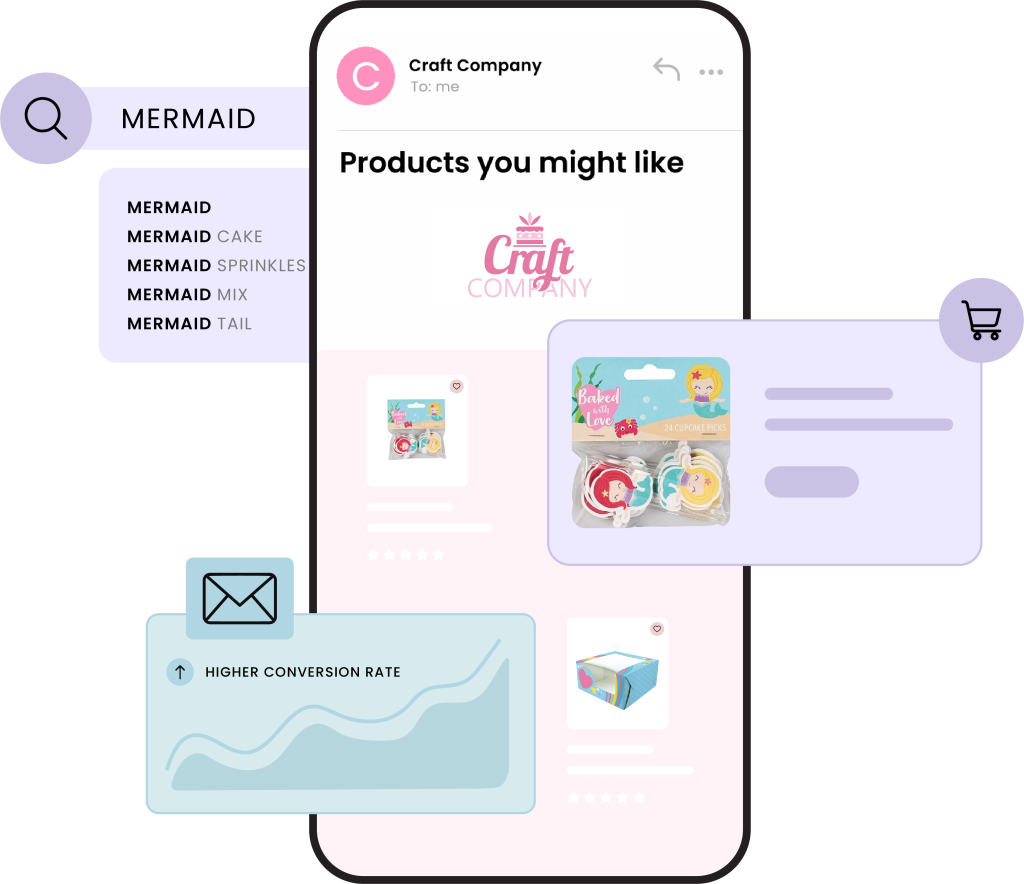 Craft Company is an online retailer of high-quality cake decorations and baking supplies based in Northumberland. They provide everything required to create cakes to celebrate any occasion and every party theme. From everyday bakes to showstopping birthday, wedding, Easter or Christmas cakes, Craft Company's extensive range is sure to meet any cake decorator's needs.
In this case study, we will detail the Craft Company's new search abandonment flow in Klaviyo, which quickly became the Craft Company's top-performing flow, boasting a remarkable 76% click-to-conversion rate.
Shoppers who use search are 3-5 times more likely to convert. Klevu built an integration with Klaviyo, allowing joint customers to grow search-led revenue through automated and personalised product recommendations in email. The Klevu Klaviyo integration automatically identifies shoppers with the highest buying signals and enriches customer's email and SMS experiences in Klaviyo, to save ecommerce teams time and effort.
The challenge of any new tech is proving the value, so Klevu enlisted the help of PAASE, the first Klaviyo Elite Master in EMEA. With their deep understanding of Klaviyo's capabilities, PAASE was instrumental in delivering impressive results for the Craft Company.
This exemplary case of synergy between PAASE, Klevu, and Klaviyo has not only leveraged technology but also revolutionized the Craft Company's customer journey.
"Thanks to the team at PASSE for identifying the opportunity to enhance our Klevu and Klaviyo integrations. The search abandonment flow implementation was straightforward and because it's dynamic, and requires minimal maintenance which is a bonus for a small team. The strong conversion rate and revenue returned proves that when the efficiency of Klevu's search results combine with Klaviyo's capability to re-target, we have a winning combination to deliver what customers have told us they need."
Search abandonment can happen for a number of reasons, maybe shoppers are multitasking and get distracted or maybe they're browsing a number of websites at the same time. Either way retailers are likely losing revenue from their highest intent buyers through search abandonment.
PAASE set up a Klaviyo automation using Klevu search data that targets search abandonment.
The proof is in the pudding
The new search abandonment flow became The Craft Company's best-performing Klaviyo flow, contributing an additional 6% to their overall email revenue, and achieving an impressive 76% click-to-conversion rate.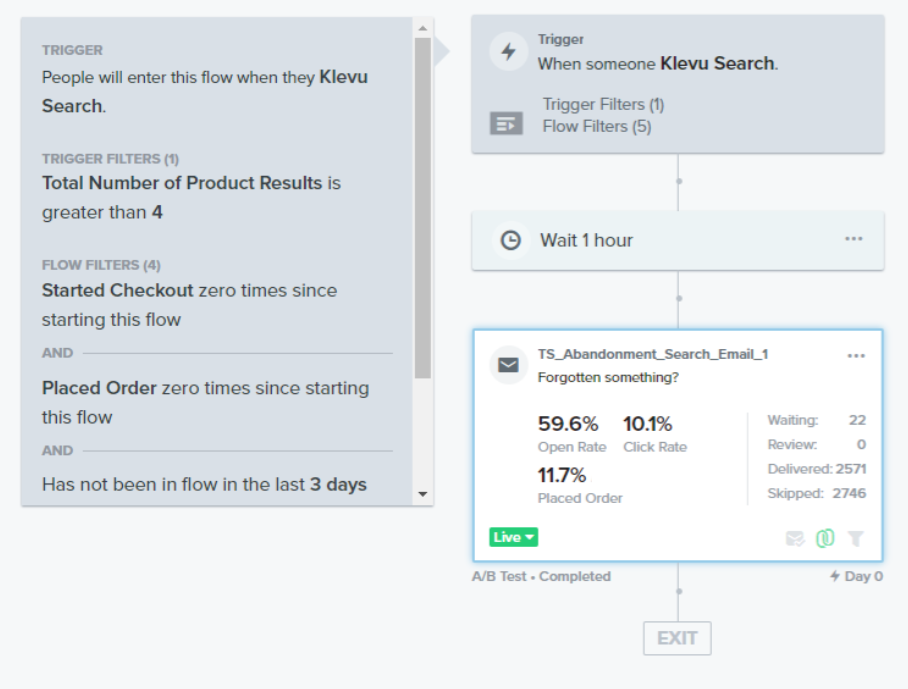 The Craft Company continues to work with PAASE on optimising their email campaigns. This integration between Klevu and Klaviyo has not only driven high revenue for The Craft Company but also significantly improved their customer journey, ensuring that every interaction is personalised, engaging, and relevant.
Customers who use Klaviyo and Klevu can now take full advantage of search data (full search terms, subjects, and more) to power personalization in email and SMS flows and campaigns. Complete the circle of personalization by choosing Klaviyo segments to display different product recommendations banners on your website.
With this integration activated, Klevu helps Klaviyo merchants identify and personalize content for the most-likely-to-buy shoppers — including what products to recommend — all powered by artificial intelligence. Get a demo >