Dr Barbara Sturm used Klevu AI search and merchandising to to achieve 61% click-to-conversion rate
8.5x
Search Per Session Value 8.5x that of non-search traffic
61%
Click-to-Conversion Rate from Category Pages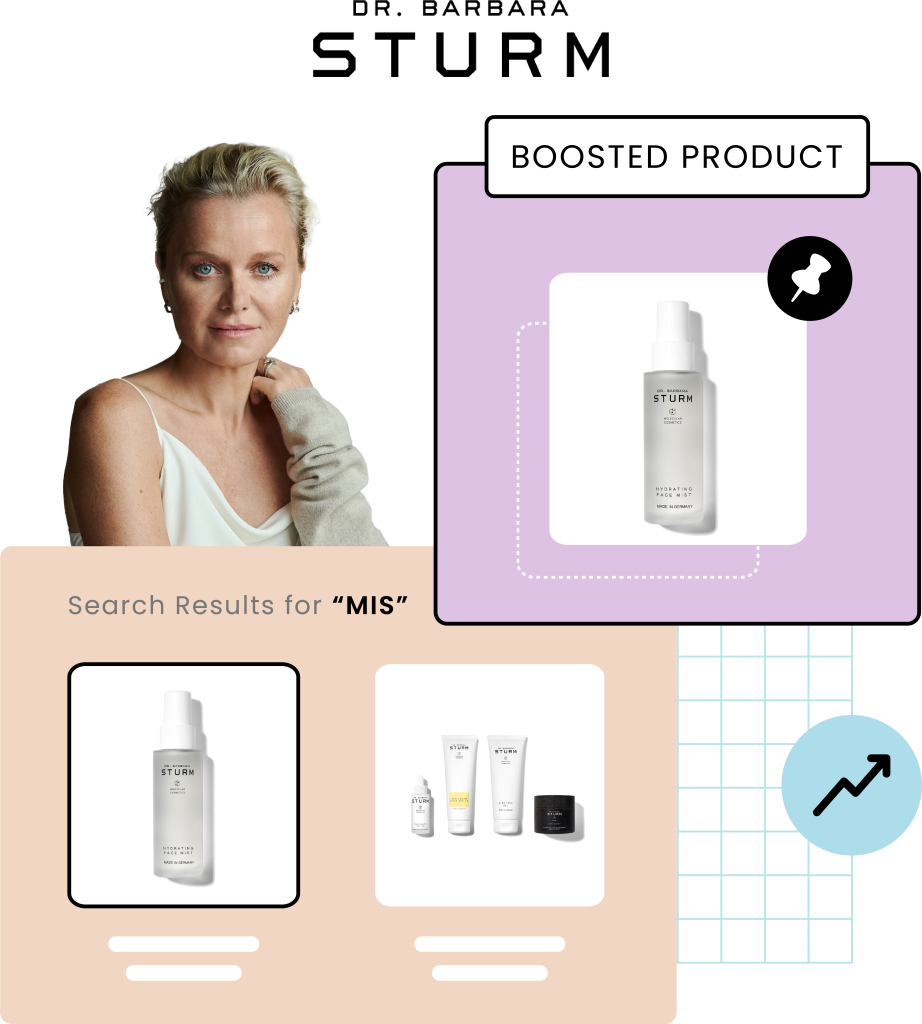 In the world of luxury beauty, Dr. Barbara Sturm stands out as an industry leader. The luxury beauty brand worked with MACH-Certified solution integrator, Apply Digital, to build a digital experience that represented the brand. To uphold the brand experience online, the brand integrated Klevu's AI-powered on-site search within its BigCommerce platform. The results? A search per session value that's 8.5 times higher than non-search sessions and an impressive category click conversion rate of 61%. Both metrics rank among the highest of all Klevu customers.
With an intricate array of beauty products, Dr. Barbara Sturm's customers often faced challenges in searching for specific items. Whether they were looking for products based on symptoms, ingredients, or even how-to content, navigating through the extensive catalog proved to be quite daunting. Operating in the luxury segment meant that there were high customer expectations and no margin for error. Dr. Barbara Sturm's discerning customers demanded nothing short of perfection when it came to their online shopping experience. Every interaction had to exude elegance and sophistication to match the brand's reputation.
By seamlessly integrating Klevu search and category merchandising with the BigCommerce platform, it introduced a plethora of advanced features that elevated the shopping experience to a whole new level.
Natural language processing: This cutting-edge technology enabled users to search with context, making product discovery effortless. Whether customers searched using symptoms or specific ingredients, the system intelligently understands and presents the products and content most likely to move shoppers along their journey to purchase.
Personalized search results: Leveraging the power of machine learning, Klevu's tool analyzes user behavior patterns to offer highly personalized and pertinent product suggestions. This level of customization ensured that each customer felt like their needs were being met uniquely, leading to increased customer satisfaction.
Dynamically merchandised category pages: With tailored Klevu algorithms and advanced merchandising tools, the Dr. Barbara Sturm team can feel AI-empowered to transform category pages into exceptional shopping destinations that appeal to both customers and search engines alike.
By implementing Klevu's AI-powered on-site search and category merchandising, Dr. Barbara Sturm successfully transformed the way customers interacted with their website. The result was an enhanced and tailored shopping experience, perfectly aligned with the brand's commitment to excellence and education.
Results
Search Per Session Value: Jumped to 8.5x that of non-search traffic
Click-to-Conversion Rate: A jaw-dropping 61% on category pages
The collaboration of Klevu's search capabilities with BigCommerce's robust ecommerce platform has propelled Dr. Barbara Sturm's online shopping experience to new heights. Metrics like these are more than just numbers; they are the lifeblood of your brand's success and revenue. Imagine what integrating Klevu's AI-powered search and category merchandising could do for your business. To learn more about how Klevu can elevate your search and product discovery experience, schedule a demo.