Blog
New Release: Multi-Currency Support for Shopify Plus Merchants
by Klevu on
Localised Experience is Part of Globalisation
Providing a multi-currency experience is critical for global brands who want to build a one-to-one experience with their customers. As part of Shopify's international e-Commerce strategy, Shopify announced the Multi-currency feature at Unite 2018.
Shopify empowers merchants to grow globally by selling in local currencies and settling in the preferred currency. With the default geolocation functionality, it will show the local currency prices to the shoppers, the currency prices will be based on current foreign exchange rates that are rounded for stability.
"92% of shoppers prefer to make purchases in their local currency"
(According to the research by Shopify on Global Ecommerce)
For all Shopify Plus merchants using Shopify Payments, Multi-Currency support can be found under the Payment providers screen. Shopify will start by supporting selling in the following currencies: AUD, CAD, EUR, HKD, GBP, JPY, SGD, NZD, and USD.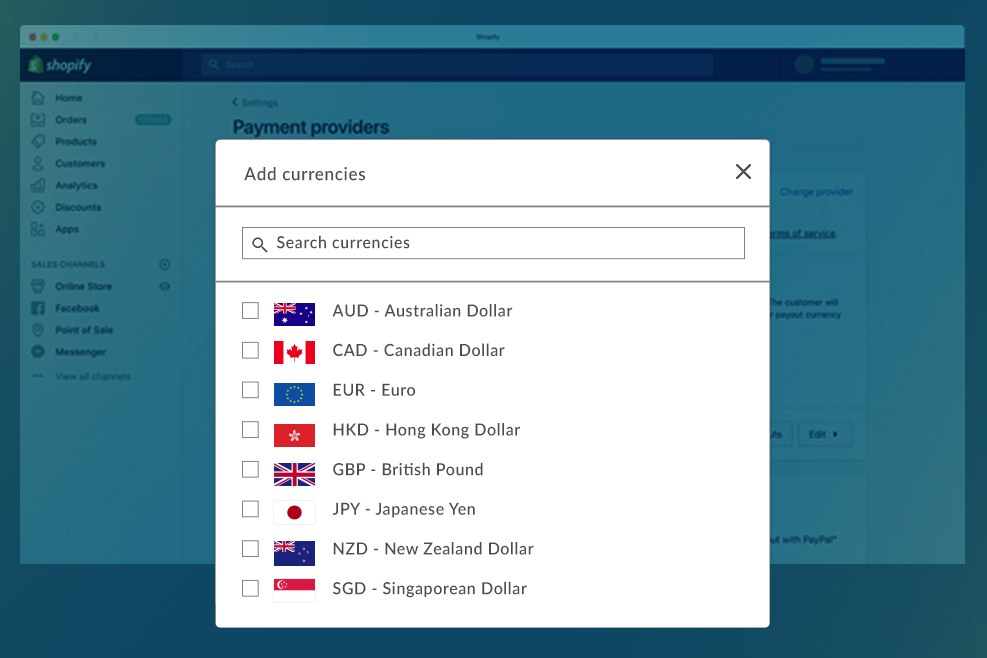 How will Klevu support the Multi-currency in Search for Shopify Plus merchants?
Shopify Plus merchants can enable Multi-Currency support in Klevu. If the merchant has configured the payments in multiple currencies then the same experience will be reflected in the Klevu search results by following the steps given on this link. Also, Klevu will support the multi-currency on the category pages if Klevu's Smart Category Navigation add-on is enabled on the store.
Take advantage of Multi Currency Support with Klevu today to reach a new, broader audience by diversifying your current shopping experience and further drive conversions.