Klevu AI search and merchandising leads to uplift for Seasalt in only 2-weeks
16%
increase site-wide conversion rate
20%
increase in conversion rate through search
22%
increase in average order value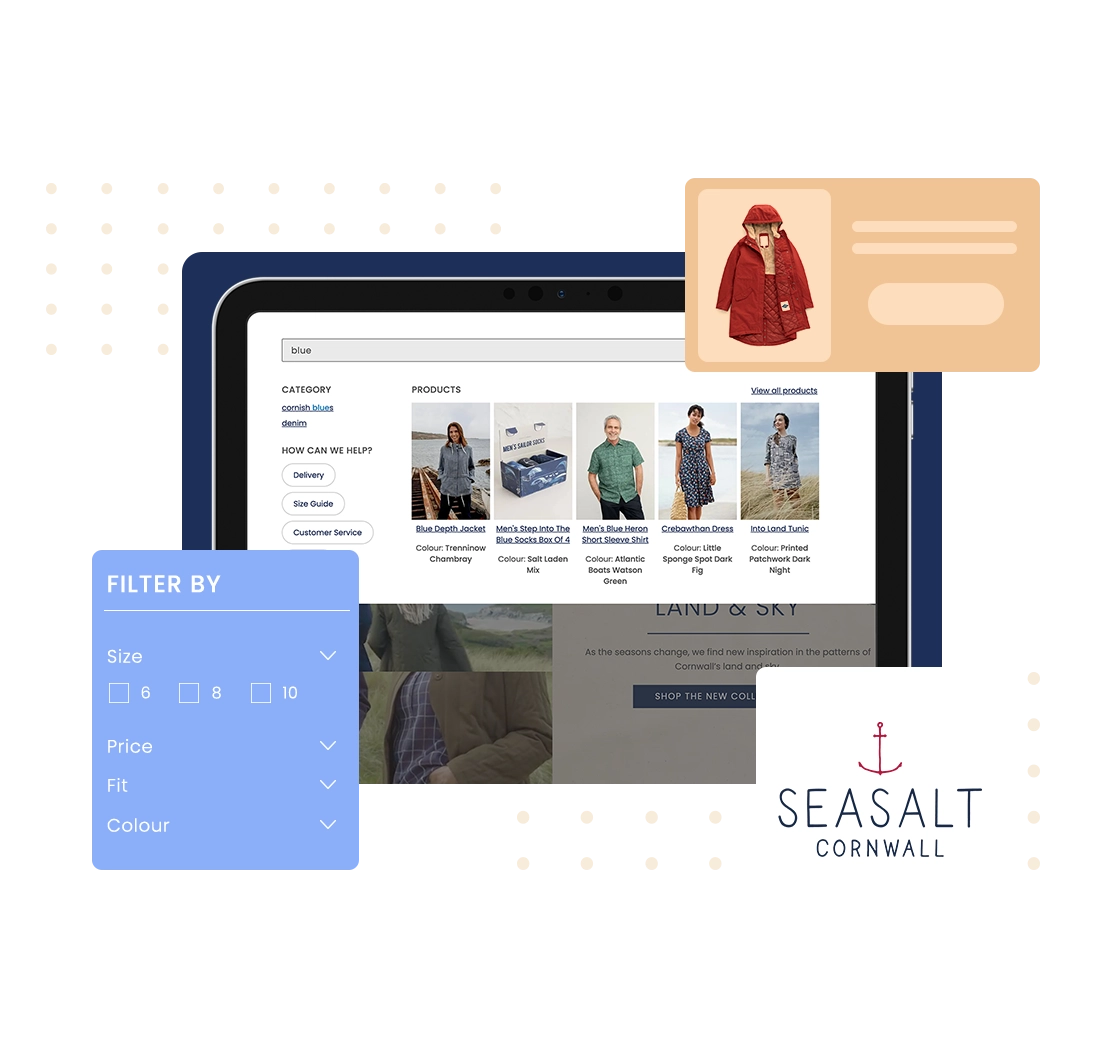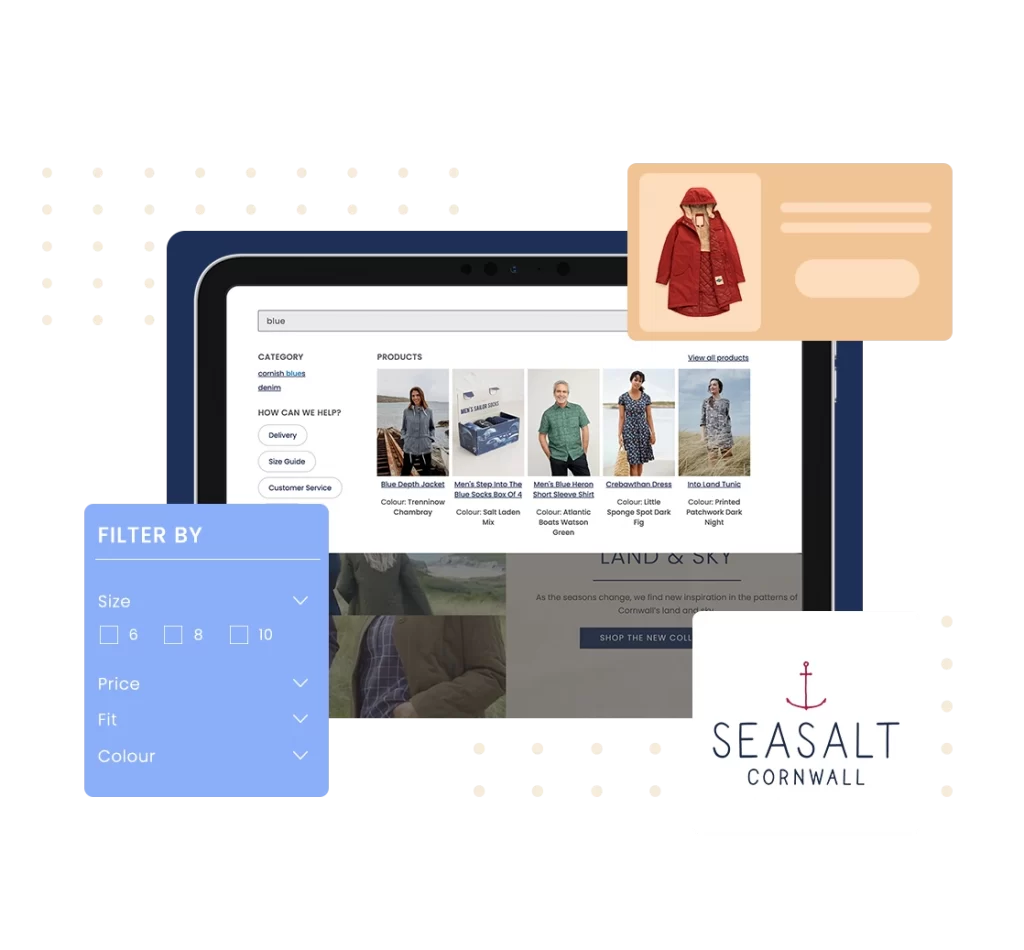 Platform
Magento - Adobe Commerce
Seasalt is committed to helping inspire people of all ages and shapes to dress with creativity and confidence. Since 1981, Seasalt has grown to be the largest employer in Cornwall with over 70 stores in the UK and now has a global reach.
Covid has accelerated the digital transformation at Seasalt. The brand has seen rapid digital adoption from existing customers and has acquired new digital customers. Seasalt recently replatformed to Magento 2 on all three websites – UK, Ireland and Rest of World and launched with Klevu's Discovery Suite including Smart Search and Smart Category Merchandising.
The role of curation and AI for category merchandising
Seasalt truly believes in being customer-led. With Klevu, they've also learned not to over-merchandise and to let the AI work.
Recently, during a sale period, the team fully merchandised all products within sale to be in a specific order, based on stock level and other more aesthetic factors. The data showed that customers were not browsing the category that way, and were using filters straight away.
"When it comes to layout of category pages, we need to be customer-led. Whilst it's important that our pages look the best they can and we are able to show the key products in our collections and categories, it's much more important for us to show the most relevant products and content to our customers.The website's responsibility is to drive sales through the web and provide a good customer experience. With Klevu, we've been able to find that balance between commercial, merchandising and conversion." – Jana Lindner, Senior Digital Trade Manager, Seasalt
Now, the Seasalt merchandising team knows that they don't have to merchandise every product on a category page, they do the first few rows, and then let the machine do the rest.
"Klevu enables us to optimize the small things on the site that make a big difference. We need to use AI technologies such as Klevu because we want to do as much as we can in-house and uphold that Seasalt personal touch in the digital experience. But also make it scale. We've found that using AI increases AOV, on site customer experience, CLV, and even helps us with driving more efficient advertising due to increased relevance."
With easy-to-use visual merchandising tools, merchandisers can visualize each category page, fine tune the results with a slick drag and drop interface, and preview before publishing. Multi-user support empowers a team of merchandisers across the store to work on merchandising campaigns together. 
Ecommerce Search & Discovery Audit
Uncover growth opportunities for your ecommerce business
Feature focus
Time-bound campaigns
Seasalt is able to plan campaigns in advance, and schedule start and end dates. The team has set up clever rules to allow for flash sales, highlight new collections, and keep category pages merchandised in line with email and other marketing campaigns.
Category merchandising with AI
The Seasalt team pins 16 products to the top in order to visually curate the top 4 rows to align with marketing campaigns, then lets the AI merchandise the rest, saving a lot of time, and showing customers only what they want to see.
Automated boosting and demotion of products
Rule-based merchandising allows Seasalt to create layers of control, but also let the AI to work its magic. For example, Seasalt has a boosting rule to prioritize clothing from the newest collection, but the order of that clothing will be dependent on the AI.