Article
B2B Ecommerce Conversion Challenges Solved
As a B2B retailer, the challenges you face are unique. Your customers are highly motivated to make very specific purchases, but face sifting through complex catalogs to find what they're…
As a B2B retailer, the challenges you face are unique. Your customers are highly motivated to make very specific purchases, but face sifting through complex catalogs to find what they're looking for. In this section, we outline three ways you might be losing sales due to poor product discoverability — and how on-site search might be the answer to all your problems.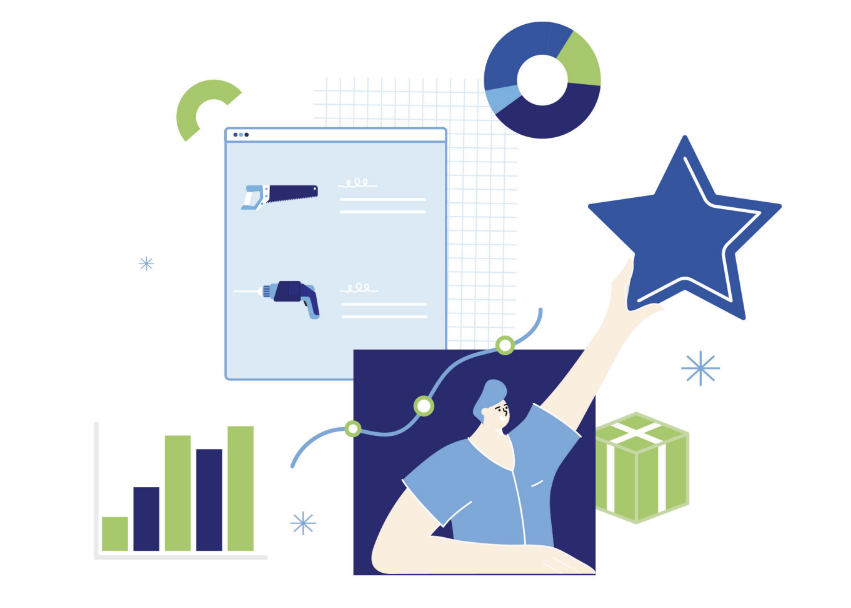 Conversion Challenge 1: Searching for the Super Specific
The Issue: Large product ranges/ catalog make it difficult for your customers to find products that meet specific requirements
As a B2B retailer, chances are you offer a large, specialist and highly technical product range. Meanwhile, your customers are on the hunt for incredibly specific items.
Without a well-crafted search experience, your customers can find themselves experiencing a frustrating "needle in a haystack" situation. If your store isn't able to take them swiftly and efficiently to the products they're searching for, you risk customers bouncing and turning to a competitor.
The traffic reaching B2B stores tends to be highly intentional. Your customers have likely arrived at your store because they have a specific requirement. Search-led journeys are common with a customer profile of this nature, and as a result, a poor search experience can prove especially costly to your conversion rate.
How a search and discovery platform helps: Dynamic filters deliver intuitive and well-ordered search results
Klevu provides a truly elevated on-site search experience. A wide range of features take its functionality far beyond what's natively available from e-commerce platforms.
It's this degree of extra polish that can make a world of difference when it comes to satisfying the search requirements of the B2B market.
When it comes to honing in on highly specialized, specific items among a wide range of products, dynamic filtering comes into its own. When presented with the results of an on-site search, customers see AI-driven dynamic filters that automatically interpret and display the most relevant product attributes.
This means your customers experience a results page that's quick and easy to refine as they narrow down their search results.
Conversion Challenge 2: A Broad Range of Specialist Search Terms
The Issue: You miss sales as search queries aren't recognized and fail to serve up the correct products.
When searching for specific items on your B2B online store, your customers could use a wide range of search terms, from brand names to SKUs, trade terms to part or model numbers.
As a result, they may enter a term that isn't recognized by your on-site search, resulting in a "no results" page … even if you do stock the product that they were looking for!
These are sales that you simply shouldn't lose. By giving the impression that the items they require weren't stocked, you've needlessly lost a promising sale and created a disappointing end to their user journey. You also run the risk of losing them as a customer in the future, as they'll wrongly assume you won't be able to meet their requirements.
How a search and discovery platform helps: Automatic catalog enrichment and NLP capacity help to interpret a broader range of search queries
When selling online in the competitive B2B space, it's vital to correctly interpret your customers' intent. Klevu has several measures in place to ensure that customers will be served up the products that they were hoping to find, however they phrase their search.
Klevu's automatic catalog enrichment utilizes metadata to add contextually relevant synonyms to your catalog. This results in up to three times the depth and coverage of search results. No matter what query your customer chooses to input, they'll get accurate results.
Natural Language Processing (NLP) can help by considering the actual meaning of keywords, resulting in a more intuitive and accurate experience.
Even if the search term your customer inputs doesn't appear in any of the associated product information, the correct product can still be interpreted and delivered in their search results.
Conversion Challenge 3: Missed Opportunities for Cross-Selling
The Issue: You miss the chance to fully leverage product discovery, resulting in suboptimal AOV.
With large, varied catalogs and clearly defined market segments, your chance to up and cross sell as a B2B retailer is significant.
But it can be hard to manually merchandise such broad ranges of products and collections — and it's a huge time suck for your busy e-commerce team.
Today's consumer expects a more personalized e-commerce experience, and this applies to B2B just as much as D2C. If you're not providing a shopping experience that lives up to these expectations, you run the risk of losing out to competitors who've got a better measure of their audience.
How a search and discovery platform helps: Advanced AI and personalization capacities put the right products in front of the right eyes, at the right time
The smartest way to make the most of every opportunity available from your search led customers is to lean on the power of AI.
Klevu's advanced algorithms ensure that your products are merchandised to optimum efficiency — not only across your search results pages, but your category pages and any landing page that you choose to create too.
You can also benefit from the instant impact of quick search overlay ("search as you type") functionality, which gets trending products in front of your most motivated customers before they've hit a single key.
Automatic behavioral personalization means that each and every time your customers visit and interact with your store, their experience becomes more customized and fulfilling. Recommendations and suggested products are deployed to maximum effect.
Ready to Take Your B2B Conversions to the Next Level?
B2B e-commerce customers have specific requirements and limited time, so products must be relevant and quick to locate. This is where a sophisticated on-site search and discovery platform like Klevu can ride to your rescue, providing specialized help for B2B retailers looking to deliver enhanced customer experience and maximize each and every chance of conversion.