Article
Going Composable: The Paul Smith Journey
In the ever-evolving world of e-commerce, the term "composable commerce" has been gaining momentum. It represents a transformative approach to building and delivering online shopping experiences. Composable commerce allows businesses…
In the ever-evolving world of e-commerce, the term "composable commerce" has been gaining momentum.
It represents a transformative approach to building and delivering online shopping experiences. Composable commerce allows businesses to piece together their tech stack like a puzzle, choosing best-in-class solutions for each component, resulting in a more agile and customer-centric approach.
Recently, on a sunny morning before Ecommerce Expo 2023, at the Sunborn Yacht Hotel, we had the privilege of co-hosting a breakfast event with our valued partners at Storyblok, Limesharp, and Centra.
The event featured a panel discussion that delved deep into Paul Smith's tech stack and how it has brought value to their end-users.
Our panel discussion was moderated by Rachel Tonner, VP of Marketing at Klevu, and featured insights from the following panelists:
Hannah Bennett, Head of Digital at Paul Smith
Ed Bull, Owner at Limesharp
Johan Hemberg, Co-founder at Centra
Francesca Brindle, Customer Success Manager at Storyblok
The discussion revolved around Paul Smith's journey towards composable commerce, highlighting the process of implementing business changes and the importance of selecting the right tech stack to enhance the end-user experience.
In this post, we'll explore key insights from the panel discussion, showcasing how Paul Smith transformed its e-commerce approach.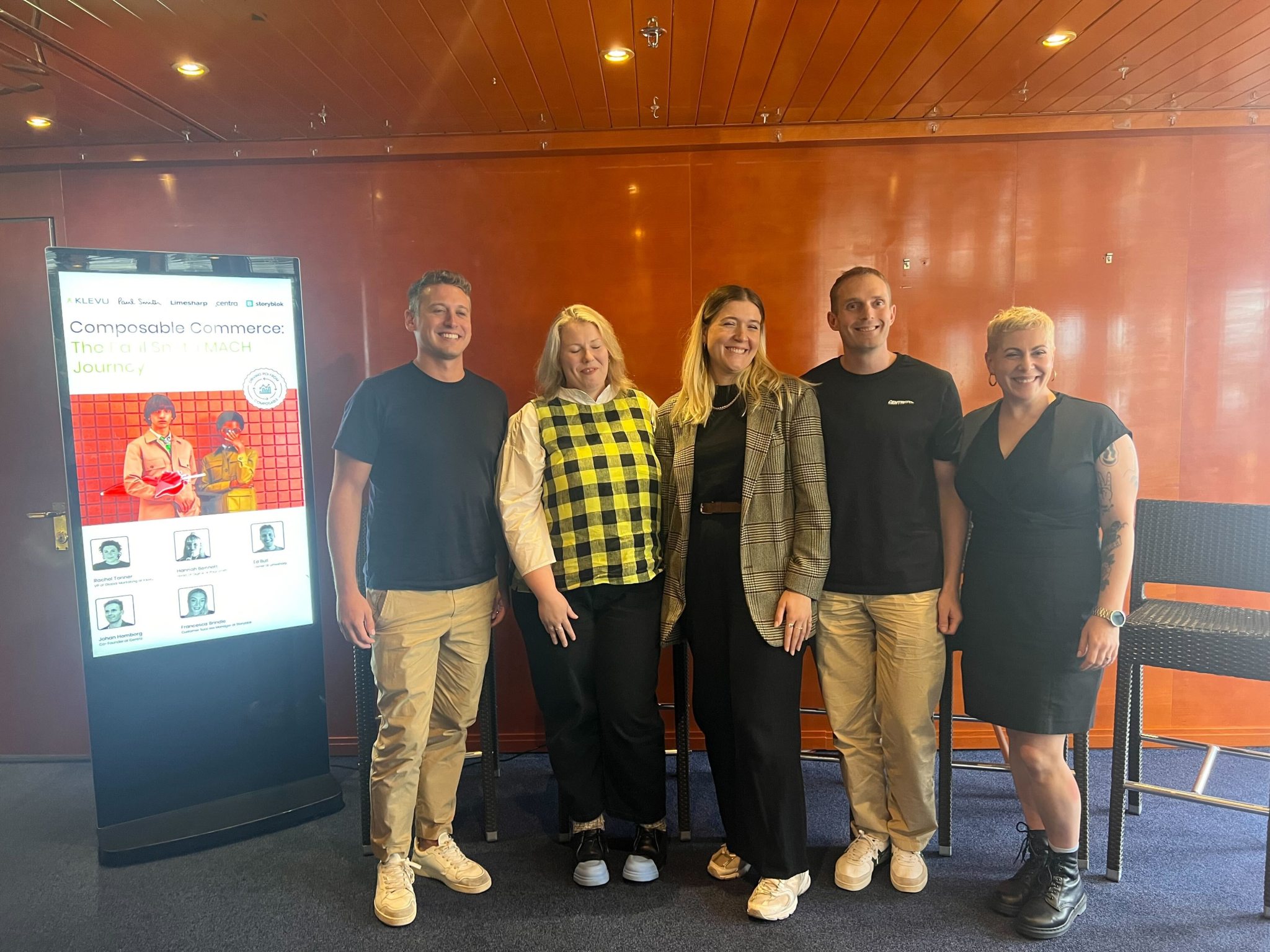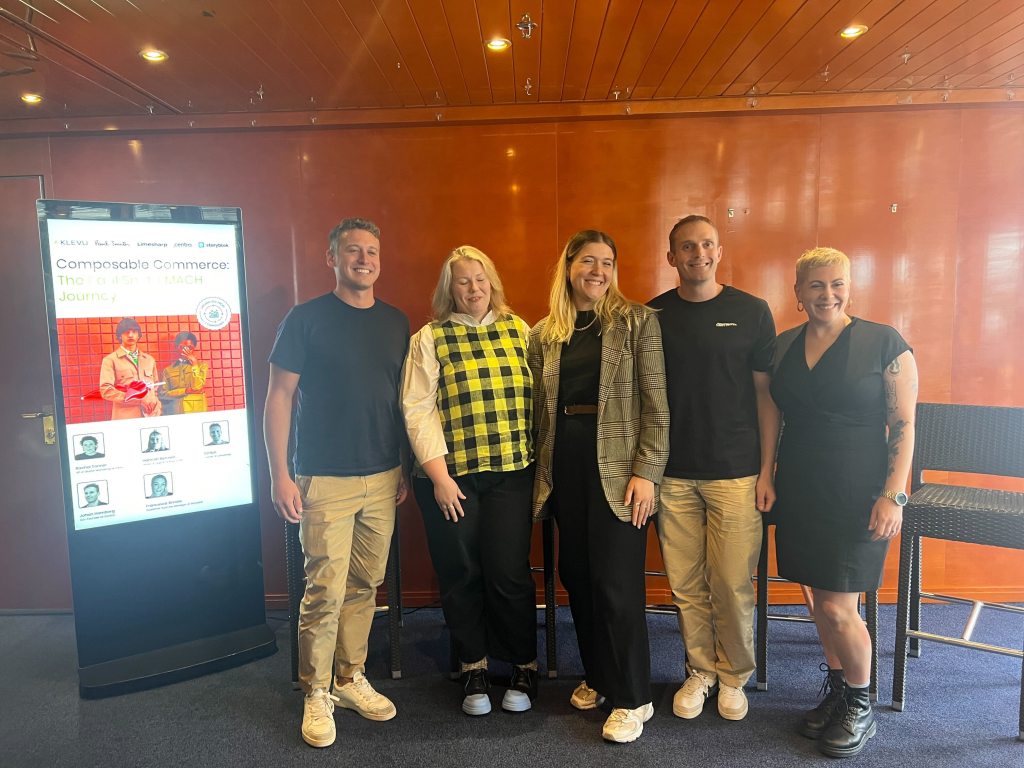 Defining Composable Commerce
To kick off the discussion, Rachel Tonner, the panel moderator, asked the panelists to define what composable commerce means to them.
Johan Hemberg, Co-founder at Centra, emphasized the central role of Content Management Systems (CMS) in composable stacks. He highlighted the various components that make up a composable stack, including CRM/CDP, delivery experience, search, merchandising, payments, and the e-commerce platform itself.
Francesca Brindle, Customer Success Manager at Storyblok, added that the ability to integrate third-party services through APIs is a crucial element of composable architecture.
Hannah Bennett, Head of Digital at Paul Smith, shared her perspective as a brand representative, admitting that Paul Smith unknowingly embarked on a composable journey before fully realizing it. She emphasized the importance of the "plug and play" aspect and using best-in-class solutions to drive business growth.
"The ability to integrate and flex solutions without waiting for our developers to build them, thanks to tools like Storyblock and Klevu, is a game-changer. It's more about configuration management than integration." – Hannah Bennett
Ed Bull, Owner at Limesharp, expressed his belief that "headless" is a more critical term than "composable." He stressed that brands can adopt a composable approach even on monolith platforms by owning their frontend and integrating with best-in-class services through APIs.
"For me, composable is a marketing buzz term. We've used monolith platforms for 15 years but always leveraged best-in-class search, merchandising, and payments. I believe the main progression is the modern tech stack, particularly the headless approach. To me, composable means owning your own frontend as a brand and integrating it with best-in-class services via APIs. So, headless is a more important term than composable. You can still achieve composability on a monolith platform." – Ed Bull
The Human Element of Composable Commerce
Rachel Tonner shifted the conversation towards the human element of composable commerce, focusing on the impact on end-users and the people behind the scenes.
Hannah Bennett shared her experience of realizing that Paul Smith was already on a composable journey. She emphasized how composable architecture allowed them to accelerate their journey and innovate, even while undergoing a significant replatforming project.
Hannah proudly mentioned Paul Smith's recognition at the MACH Alliance Awards, specifically winning the Best Digital Experience award. She attributed this success to the collaborative effort of various teams and partners.
"We won Best Digital Experience, and I believe it's a real credit to many people in this room who have greatly assisted us as a brand in defining what we want to offer our customers. While we have an idea of what that experience should be, it's thanks to Klevu, Storyblok, and Centra that we were able to bring it all together. I was bursting with pride, and it's a significant accomplishment for us." – Hannah Bennett
Centra's Approach to Composable Commerce
Rachel Tonner directed her next question to Johan Hemberg, asking him to explain Centra's approach to composable commerce.
Johan emphasized Centra's history of catering to the unique requirements of fashion brands and their commitment to crafting a tailored platform. He discussed Centra's focus on delivering a superior editing experience, a critical aspect of brand building.
Centra's approach extends beyond being an e-commerce shopping cart, aiming to serve mono brands effectively. They prioritize creating campaigns without diluting the brand's equity.
"Composable wasn't a term when we began Centra, but we realized we were on a composable journey when Gartner introduced the term. For me, the main component of a composable stack is the CMS. You likely have a CRM or CDP, which appear to be modern terms for CRM. You also have delivery, search, merchandising, payments, and your e-commerce platform. All these elements form your overall platform. I hope more e-commerce businesses adopt this approach in the future." – Johan Hemberg
Quick Wins and Tangible Improvements
The conversation then shifted towards the quick wins and tangible improvements achieved through composable commerce.
Francesca Brindle of Storyblok discussed how Storyblok's API-based service quickly addressed Paul Smith's needs, offering flexibility and integration capabilities. The improved CMS experience, coupled with performance enhancements, led to a 50% reduction in page load times and better customer engagement.
Ed Bull, representing Limesharp, highlighted the power of Storyblok as a CMS in integrating content seamlessly with e-commerce. They successfully merged content and commerce, improving the shopping experience and customer engagement.
Roadmap and Future Plans
Looking ahead, the panelists shared insights into their respective roadmaps and future plans.
Johan Hemberg of Centra discussed the potential for AI integration, especially in benchmarking and localization. He also mentioned exploring a B2C business model that leverages the platform's capabilities for micro warehousing.
Francesca Brindle emphasized Storyblok's focus on accessibility, aiming to create a more inclusive CMS. Additionally, they are working on native apps and expanding tech integrations.
Hannah Bennett outlined Paul Smith's roadmap, including the launch of B2B on Centra and implementing ship-from-store capabilities. She also discussed enhancing sustainability through delivery methods.
Ed Bull of Limesharp mentioned the development of their Central accelerator, aiming to speed up project launches. They also focused on improving front-end performance and exploring omni-channel capabilities.
Rachel Tonner of Klevu shared their plans for conversational search and AI-driven back office merchandising, aiming to enhance the search experience and individual shopper personalization.
In conclusion, the Paul Smith journey into composable commerce reflects the industry's shift towards agility, flexibility, and customer-centricity.
By assembling a best-in-class tech stack, they have improved performance, personalized experiences, and set the stage for future innovations. The success of their approach lies in collaboration, adaptability, and a deep understanding of their customers' needs.
Read more about Paul Smith improving Search & Merchandising >