Event
Preparing for Peak with Party Delights: Optimising Conversion Rate
Discover tips and tricks on how to increase your conversion rate during peak. Featuring Party Delights.
Over the past 20 years, Party Delights have become a powerhouse of party supplies, with international websites and retail stores across the UK and Ireland, they're a one stop shop for everything you'll need for your special occasion.
During peak seasons, it's important to place a focus on conversion rate optimisation whilst still creating a smooth and unforgettable customer experience.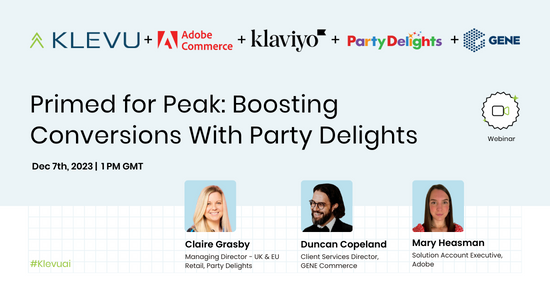 In this webinar, we'll hear from Claire Grasby, Managing Director of UK & EU Retail at Party Delights, Duncan Copeland, Client Success Manager at GENE Commerce and Mary Heasman, Solution Account Executive at Adobe Commerce.
Register to learn:
Why Party Delights decided to migrate to Adobe Commerce and the benefits this has bought them
How to ensure a smooth customer journey on site
Managing large volumes of traffic during peak seasons
The importance of mobile commerce
How to choose the right tech stack and ensuring your tech works seamlessly together
Optimising your product discovery experience to increase conversions