Blog
Benefits of Using Natural Language Processing in Ecommerce Site Search
by Klevu on
If you are running an ecommerce business, and you're serious about providing a flawless on-site search experience, then natural language processing (NLP) is definitely something that you should be considering. No longer reserved for the search engine giants, NLP is making dramatic inroads into ecommerce site search, and bringing with it significant benefits for switched-on merchants.
From humble beginnings in academic applications, NLP has, over the years, become the dominant search methodology for mainstream search engines like Google and Bing. Looking back to the 1990s, AskJeeves was perhaps somewhat ahead of the curve, in the way it encouraged users to ask questions as if speaking to a human. This meaning-based approach is at the heart of NLP, and is today central to Google's search algorithms, replacing the earlier keywords-driven approach to search.
Some of the more enterprise-level merchants have been quick to grasp the significance of NLP for online retail. Smart search generates accurate results, leading to satisfied customers, and satisfied customers means successful checkouts. NLP in on-site search allows for far more accurate search results, which will allow merchants to push for a more search-orientated focus, like sites like eBay and Amazon.
A number of Klevu customers benefit greatly from using NLP to serve more accurate results for complex questions or unconventional synonyms – let's look at some of the key benefits of integrating a solution like Klevu within an ecommerce store:
Understanding User Intent
In the past, keyword-based search algorithms have often led to something of a 'chicken and egg' situation, with website visitors trying to 'guess' what terms they need to enter in the search box, in order to get the results they want from their search. Clearly, this is not an ideal approach, and, historically, it has led to high levels of frustration for online shoppers.
With NLP-based search, however, the focus switches from keywords to actual meaning. Taking a semantic approach means that search results have a 'connection' to the search terms, rather than having to actually contain those search terms. With over 1 million words in use in the English language, it's not hard to see why a more context-driven search algorithm is more useful when it comes to retrieving accurate results.
To illustrate this point, let's look at a couple of examples. Take Zimmermann, an online fashion retailer based in Australia who use Klevu search. Zimmermann's adoption of an NLP-based solution within its ecommerce store can be demonstrated by searching, for example, for 'ankle shoe'. As shown in the image below, the search results are highly accurate, yet they do not contain the term 'shoe'. Klevu is able to understand that a product with an ankle heel is likely to be a shoe, even if that word is not contained in the product name or description.
Another great example that illustrates how NLP search can derive meaning from search terms, and thereby deliver optimal results, is Half Price Drapes, who also use Klevu. A search for 'floral drapes' is interesting, as it produces highly relevant results, that contain neither the word 'floral' nor the word 'drapes' in their product names or descriptions. Clearly, the search tool has been smart enough to understand the terms entered and match the best-fit results through semantic association.
These two illustrations show that NLP search can deliver accurate results and a successful user experience, where traditional text-based searches would typically fail. NLP search can also outperform traditional search by learning about common miss-spellings, mixed-up brand names and other potential issues that could be entered into the search box. With self-learning abilities, NLP search never stands still, and continually becomes more accurate and better able to 'understand' customer intent.
Increasing Customer Satisfaction
When thinking about the impact that a poor customer experience can have on an online store, it's easy to concentrate on the current visit, without considering the long-term impact a negative experience can have. Obviously, if a customer uses on-site search and is presented with a random assortment of irrelevant products, or, even worse, the dreaded 'No Results Found' page, that customer is likely to leave the site, and a potential sale is lost. The damage done goes much further, however, as that customer is unlikely to return for future purchases. If the customer leaves a site after a poor experience, and subsequently visits a competitor's site where the on-site search delivers fast, accurate results, it's not difficult to work out where the customer's loyalty will lie when it comes to future shopping. It's vital to understand 'lifetime value' of customers, when weighing up the benefits of investing in NLP-based on-site search.
The example below shows how a merchant provided a poor experience in comparison to the Half Price Drapes example, as a result of not using an NLP solution.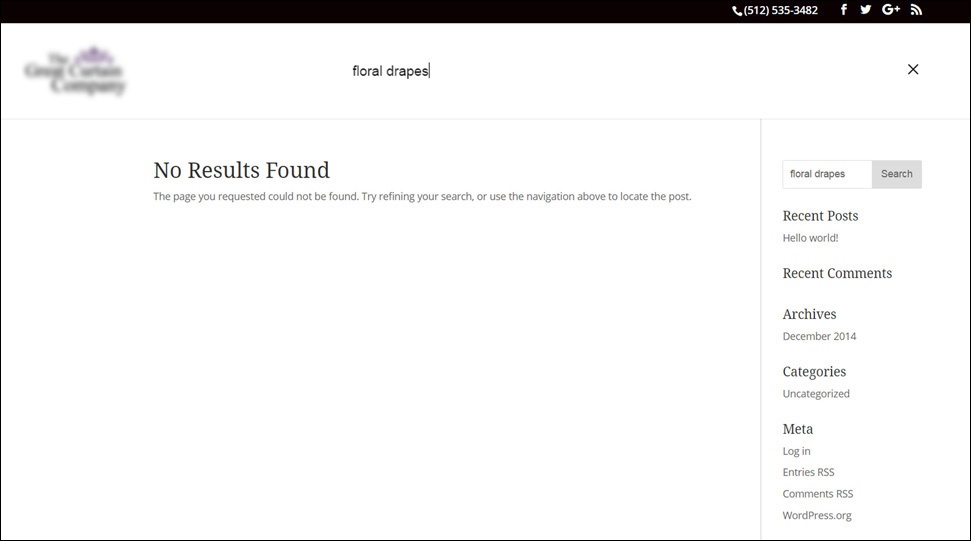 It's clear that intelligent search tools deliver much more than accurate results. On-screen results are, of course, the visible element of what NLP search brings to an online store. The intangible effects are just as powerful – streamlined purchasing journeys and increased customer satisfaction levels translate ultimately into significant gains to the bottom line.
—
Natural language processing represents one of the core benefits of using Klevu and it's probably the most important feature for our enterprise-level merchants. There's been a big shift recently in the number of merchants seeking and implementing NLP-based search in order to deal with more complex queries and it's something that more merchants should really be looking at.
We've seen uplifts in revenue from search of up to 100% as a result of using the NLP, which can impact a large proportion of queries for some merchants. If you want to discuss how some of our clients have benefitted from using Klevu's NLP capabilities, please follow the request a demo button in our header.