Blog
The benefits of using an enterprise-level ecommerce search solution
by Klevu on
The transition from mid-level to enterprise-level retail is often a painful and complex journey, involving a major shift in thinking in terms of ecommerce platforms, strategy and investment. A big part of this is selecting the right technology to help the business operate in a scalable, efficient way – ranging from your ERP or order management system to your eCommerce platform.
Although your eCommerce platform is often the obvious start when looking to build an enterprise-level online retail operation, there's no platform that tickets all the boxes – so you'll still need to think about solutions for core on-site functions, such as reporting, merchandising, payment processing and, as we'll be focusing on, on-site search, as well as other integrations.
In this article, we look at enterprise-level search solutions and look specifically at the benefits that more advanced solutions can bring to a store. Although lots of the enterprise platforms claim to offer an advanced, enterprise-level search function, none of them offer the top-level enterprise features around language processing, merchandising and self-learning capabilities. For anyone involved in the decision-making process surrounding eCommerce site search, understanding the tangible benefits of using a third-party eCommerce search solution can help to justify the associated cost.
Better engagement
Enterprise-level eCommerce site search solutions, like Klevu, focus on 'smart' or 'intelligent' search. Gone are the days of basic keyword-driven search, which is the approach that the platforms tend to rely on with their native search – today's leading enterprise-level technologies utilise natural language processing (NLP) and machine learning to provide a far more sophisticated solution to understand more about the queries used in search. These systems deliver highly relevant, semantically-connected results via a search interface that focuses on speed, accuracy and personalisation. By delivering the best possible results set as quickly as possible, and showcasing those results in a format that informs the customer and facilitates the buying decision, the online store is able to connect more effectively with its customers. Customers feel like the store is working with them, rather than against them, and so gain a sense that the store actually understands what interests them. That drives trust, which in turn leads to positive purchasing decisions.
Another engagement-related feature that really sets Klevu apart from competitors is the enrichment capabilities, which allow us to match far more complex queries. Klevu enriches your product catalog with a huge number of synonyms and adjectives, which provides the search function with more context. An example that Klevu tend to use with merchants is colour variants, so if you were to search a store for "sky blue dress", the enrichment would allow Klevu to serve relevant results. The same principle applies for queries like "hard wood table".
Another principle of the data enrichment process is taking more data around the product, with the intention of being able to serve accurate results for things like "big bags", "water resistent phone holder", "tight jeans" and "gentlemans watch".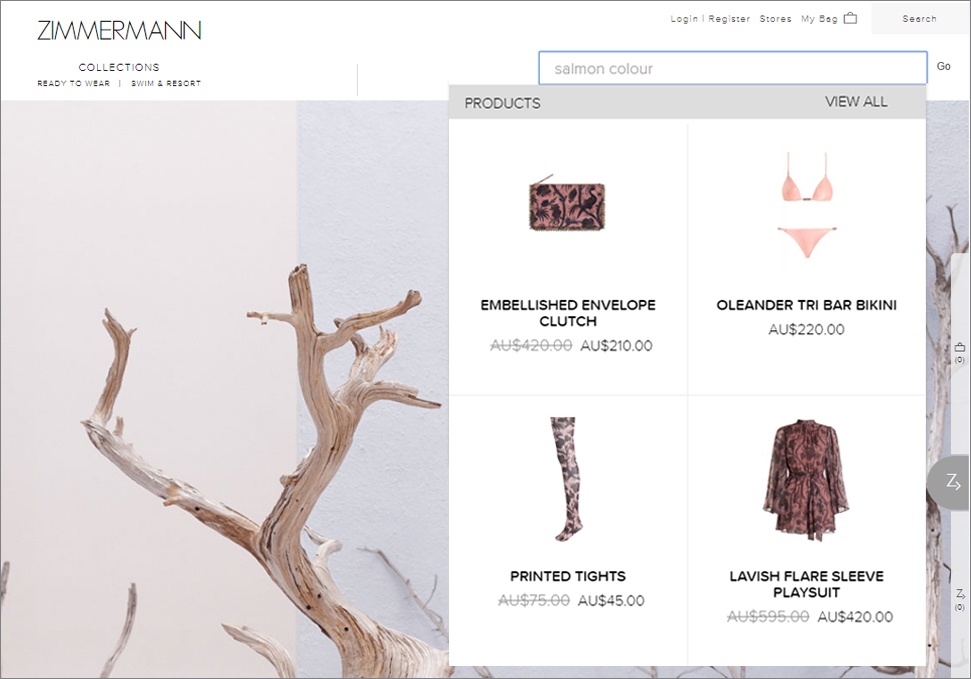 This is a really important part of enterprise-level search and the data will generally have the biggest impact on the quality of the results – the more you can enrich your products, the more context there is around matching products. This will allow a search solution to handle more complex and longer tail queries far more effectively.
Improved customer journey
The faster a customer is able to progress through an ecommerce site to their chosen product(s), the more likely they are to complete a purchase, with search representing the fastest route to products. Using an advanced solution like Klevu will typically make the purchasing journey much more efficient – starting with smart auto-suggest, the application can drive customers towards suitable products after just a few keystrokes. Search result boxes often display products as you type, allowing the user to reach the product faster, without having to go through to the search results pages. Klevu's instant search box displays an initial set of results rapidly and even allows for filtering within the interface.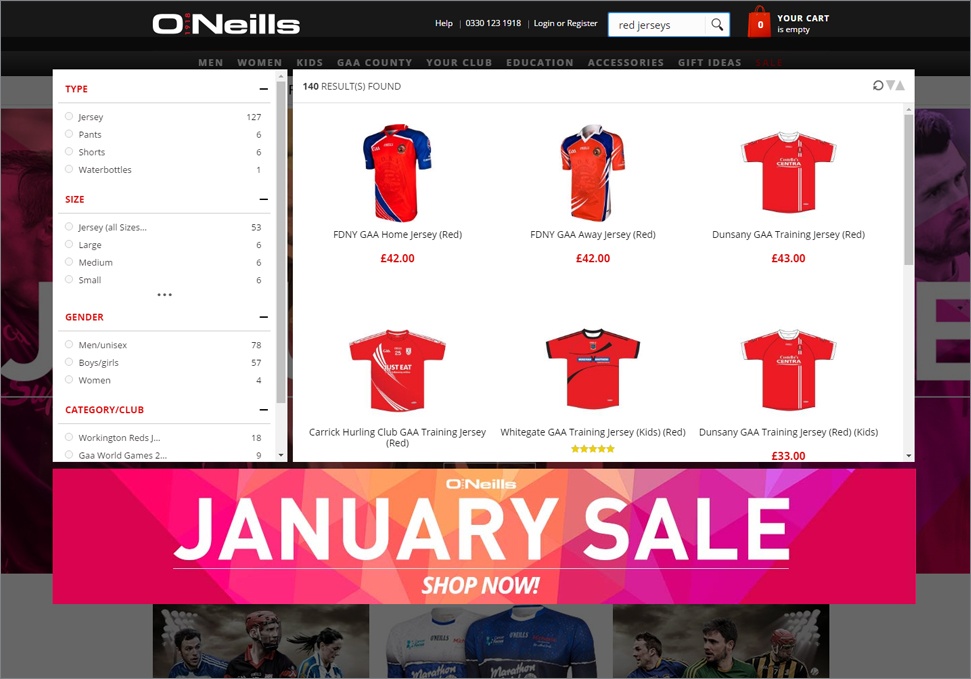 These types of solutions also offer a host of merchandising features, including showing product thumbnails (often associated with the query – e.g. the most relevant image), prices and special prices, merchandising badges and more. I'd generally recommend also serving other relevant results, such as category links and content links (be it buying guides or delivery information etc), to enable to customer to see all of the available information that is relevant to their search. Again, this is a core feature of Klevu and some of the other enterprise-level solutions.
As this level of search sophistication becomes the norm, often becoming the standard for ecommerce site navigation, replacing category-driven menus that have dominated ecommerce since its earliest days.
Better conversion rates
We've spoken so far about some fairly intangible benefits – customer experience and engagement. Of course, those concepts can be translated into statistics and an enterprise-level search solution should deliver significant, measurable improvements. Conversion rate is the metric that is most widely assessed, but items in basket, average order value, and time to checkout are all important measurements that typically see substantial uplifts following the implementation of a robust search solution.
Better analytics / reporting
Another way in which enterprise-level search solutions differentiate themselves from traditional search tools is in the level of analytics they can provide. Whilst our solution would use the data mined from search usage to power its self-learning capabilities, that data is also used to generate some powerful reports in our reporting dashboard. Store owners can identify best sellers, in terms of units sold and can also identify products that are being searched for, but not bought. The opportunities for catalog optimisation are significant, and those optimisation insights can be taken outside of the ecommerce store, to drive PPC campaigns and off-site SEO activity also.
Analysis of search terms can even reveal potential new lines or suppliers. Taking this even further, predictive analytics can look at search data alongside sales statistics to identify trends, buying patterns and seasonal swings, helping to guide purchasing and stocking decisions.
Ongoing support and development
One key benefit of integrating a third-party search solution into an ecommerce system is that the store owner benefits from ongoing support and development of that search solution. Functional enhancements and upgrades are continually applied to third-party solutions to deliver a product that keeps getting better. Whether it is performance improvements, developments in cognitive ability, expanded analytics and reporting, or better merchandising options within the search results, that constant flow of new features is something that can keep the store sharp, fresh and better able to meet the ever-increasing expectations of its customers.
Support too is central for the successful integration of any third-party solution. At the enterprise level, retailers should expect a strong and engaged relationship with any third-party supplier, that continues long beyond the project launch date. By choosing a specialist search solution provider, retailers can be assured that their investment in on-site search will continue to form an integral, and profitable, part of their overall ecommerce strategy for many years to come.
Support is something that we've invested heavily in and we're committed to providing the industry standard in this area. We offer 24/7 support for urgent issues and we're constantly reducing our average resolution times.