How an omnichannel retailer doubled click through rates online in 2-weeks with Klevu Discovery Suite
20%
increase in conversions across mobile and tablet
2x CTR
click through rates doubled
2 weeks
to see quantifiable results after integrating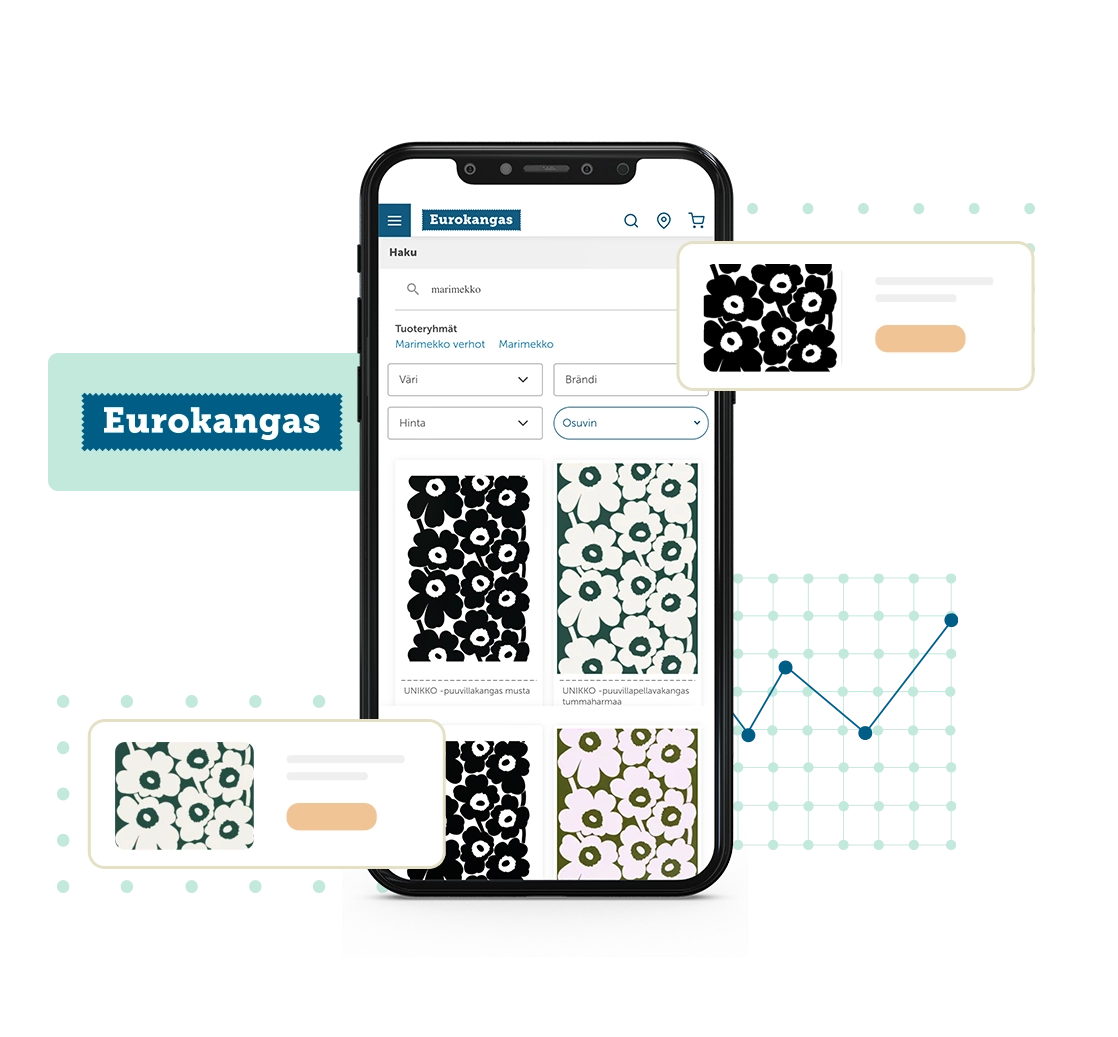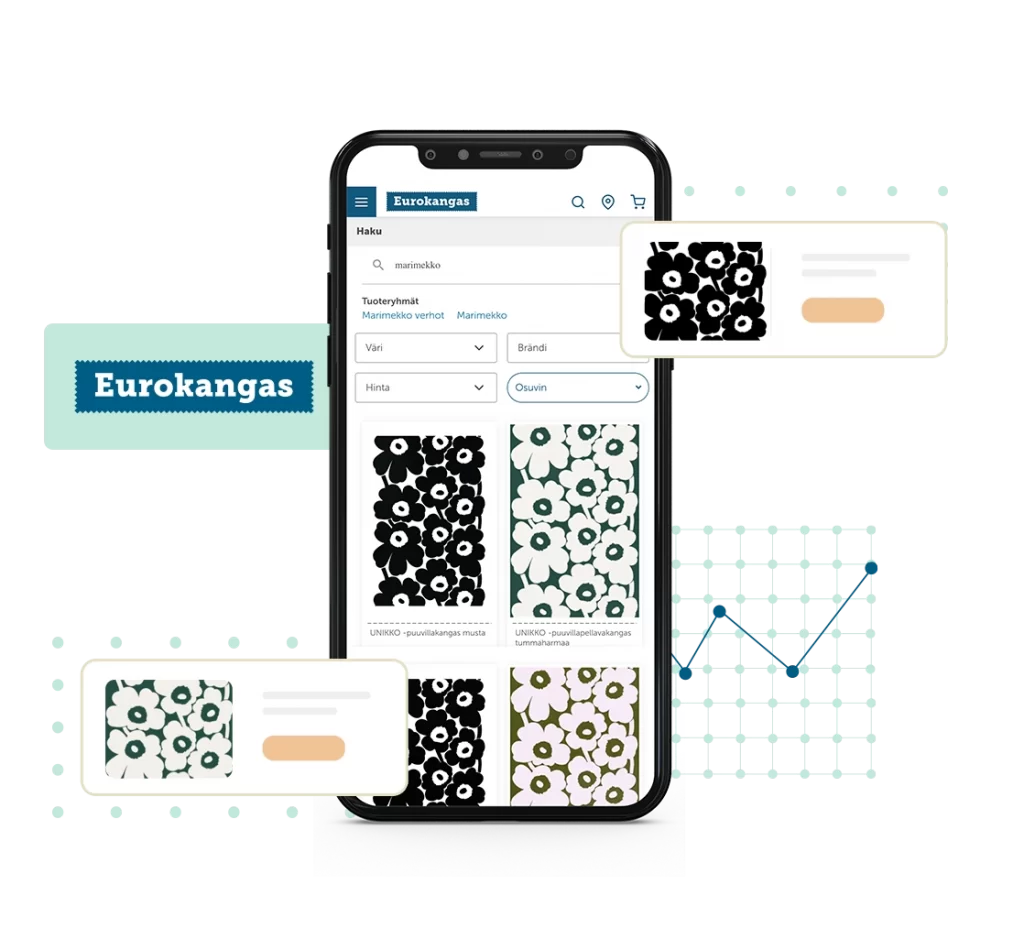 Platform
Magento - Adobe Commerce
Finnish textiles company Eurokangas specializes in home furnishings, with over 3,000 products in some categories, including made-to-measure curtains and blinds. Operating for 75 years, the company has 31 brick-and-mortar stores, alongside an Ecommerce store.
Eurokangas saw rapid improvements across a range of KPI's after implementing the full Klevu Discovery Suite: Smart Search, Smart Category Merchandising and Smart Recommendations.
Eurokangas has a large product catalogue, with some merchandising categories containing hundreds or even thousands of products. Before Klevu was implemented merchandising categorisation options online were limited to age or price. Once Klevu's Smart Category Merchandising was implemented, however, merchandising was automatically enhanced using data from multiple collection points – including live browser behaviour, search history and navigation.
Just two weeks after implementing Smart Recommendations and Smart Category Merchandising:
Click-through rates on category pages more than doubled.
Conversion rate across mobile and tablet, which make up more than 60% of visits to the site, increased by 20%.
Insights from data collected impacted their approach to merchandising, with positive results.
Improved site performance positively impacted Google Core Web Vitals
The data we get back from Klevu takes away the guesswork, and stops us having to rely on 'hunches'. Initially, there were some fears that it would simply return all products under a category. But instead, it showed that products we may not have prioritized are more actually important to our customers than we realized.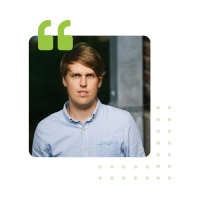 Klevu's product discovery suite (combining Smart Search + Smart Category Merchandising + Smart Recommendations) is headless compatible. As a result Eurokangas was able to build Klevu into headless storefronts using the Klevu API, taking full ownership of the customer experience and creating experiences unique to Eurokangas. Personalized elements from the brick and mortar operation could be carried over to the online offering such as made-to-measure curtains to help customers order bespoke curtains for their homes, online.
The way Eurokangas has implemented the Klevu Discovery Suite within their online store is an example of how specialist functionality can be fine-tuned to meet the specific needs of a retailer.
Ecommerce Search & Discovery Audit
Uncover growth opportunities for your ecommerce business
Feature focus
Headless API
Klevu's headless API makes it simple to customise the search facility based on the specific needs of Eurokangas.
Full Discovery Suite + 1:1 Personalization
Using all of the products in the Klevu Discovery Suite Solution, plus enabling 1:1 personalization, Eurokangas is able to share shopper intent data across its product discovery platform.
Customisable content from search
Using Smart Category Merchandising gives the option of bypassing recommendations to pin specific products – such as hotly anticipated new stock drops.
Klevu Smart Search optimises the results returned from search, continuously learning as shoppers interact with the site.
Klevu's Smart Recommendations uses data drawn from a shopper's behavior while on your site – such as search terms and browsing behavior – to guide the products recommended to them.
Klevu's Smart Category Merchandising uses data from multiple collection points to automatically merchandise large volumes of products within a category, without the need for manual intervention.
Eurokangas supercharged results by implementing all three solutions within the Klevu Discovery Suite. To discover more about headless ecommerce strategies or benefits using the full Klevu Product Discovery Suite schedule a demo.