Magazine
Understanding the Modern-Day B2B Buyer
In the previous era of B2B, sales happened in a more physical world. You had face-to-face conversations. You looked at physical catalogs and placed orders through the mail. But that…
In the previous era of B2B, sales happened in a more physical world. You had face-to-face conversations. You looked at physical catalogs and placed orders through the mail.
But that world no longer exists. Now, customers want to place orders online without ever even talking to a sales rep. In fact, research shows that modern B2B buyers conduct roughly 12 online searches before making a purchase from a chosen brand.

Understanding the Modern-Day B2B Buyer
When it comes to B2B ecommerce, to stand out from the competition, you must focus on exceeding your buyers' expectations. It's no longer enough to have a functioning ecommerce website. Instead, you must be able to replicate the same B2C website experience that shoppers are familiar with in their personal lives.
They want robust product information, which includes multiple images and even video showing how the product works. They want advanced search capabilities, so they can quickly find the specific products they're looking for. And of course, they want to do it all from their smartphones.
In fact, as much as 80% of B2B buying decisions are based on a buyer's direct or indirect customer experience, and only 20% is based on the price or the actual offering.
Part of this change in expectations can be attributed to the fact that there are more millennials in the workplace. For instance, in 2020, close to half of B2B buyers were millennials — nearly double the amount from 2012.
Not only are they in the workplace, but millennials are also much more involved in making business decisions. A recent report found that 44% of millennials are making purchasing decisions while 33% say they are key influencers or recommenders in the purchasing process.
So what can you do to capture their needs and create compelling customer experiences?
Include rich product information on your website
We touch on this above, but it's worth going into more detail — just like you should with your product information. For example, we mentioned video because it's one of the most compelling types of content you can include on your product pages.
According to a recent survey conducted by Isoline, 53% of B2B decision makers said video was the most useful form of content, followed closely by case studies. Video was also the top choice for the type of content most shared.
Just like B2C websites, you can also include user reviews on your product pages. This can help build trust since the reviews are collected from other customers.
Start to create personalized experiences for B2B buyers
According to research from Accenture, 50% of B2B buyers identify improved personalization as a key factor when searching for online suppliers with whom to build business relationships. Even more importantly, 48% of consumers spend more when they receive personalized experiences.
As an example, with BigCommerce. you can use customer groups to segment your buyers. Then, you can use banners, carousels, and other tools to make product recommendations or offer special discounts.

Not only is this good for customer experience, but it also helps with cross-sell and upsell opportunities. As shoppers can consider complementary products they might not even know that you offer.
Make the checkout process as frictionless as possible
B2B buyers have complex needs that differ from B2C buyers, and there's no place that's more clear than checkout. B2B buyers want to purchase as quickly and efficiently as possible, so just like with B2C buyers, you need to provide a frictionless checkout experience to get them to convert.
But what does that look like? One option is to allow for buy again capabilities so that customers can easily reorder the products they purchase from you regularly.
Additionally, if there's multiple levels of approval that need to take place before they can complete the purchase, it's helpful to have an account management system that can define roles and permissions. That way the entire buying process can happen
smoothly online.
You can also go one step further and allow your sales team to log in on behalf of the customer to add products to the cart and complete the order placement.
B2B Vertical Focus: Automotive
The pandemic has shifted consumer behaviour globally, and likely permanently. Many sectors are booming online after consumers have become used to online shopping. Cars and car parts are no exception. In fact, 59% of shoppers' time is spent researching online when it comes to an auto related purchase.
The problem is, when it comes to car parts, things can get complicated and for product discovery journeys, compatibility becomes paramount to relevancy.
Klevu developed an advanced search function for B2B and B2C retailers in the automotive sector that allows shoppers that know exactly what they are looking for, to choose the make/model/year within search. How it works: Within the product data, associations are made between products suitable for different car makes and models and/or year of car. So, a shopper can drilldown to their specific make/model/year and
see products compatible with their choice at the top of the product list. As you can see here with Morris 4×4 Center, the chosen make/model/year persists for the whole session, including subsequent searches, until cleared or changed by the shopper.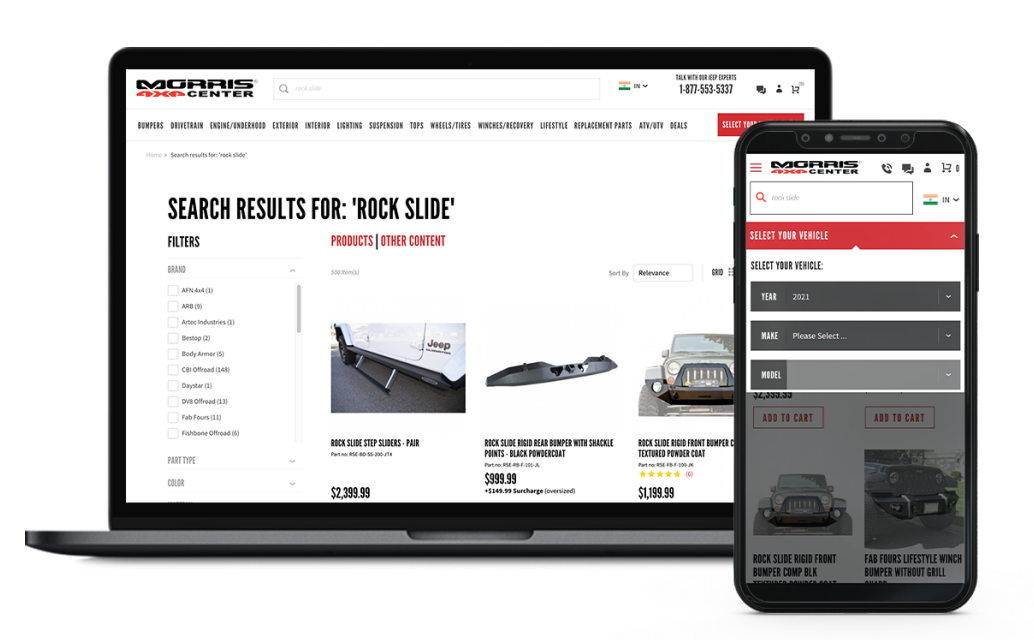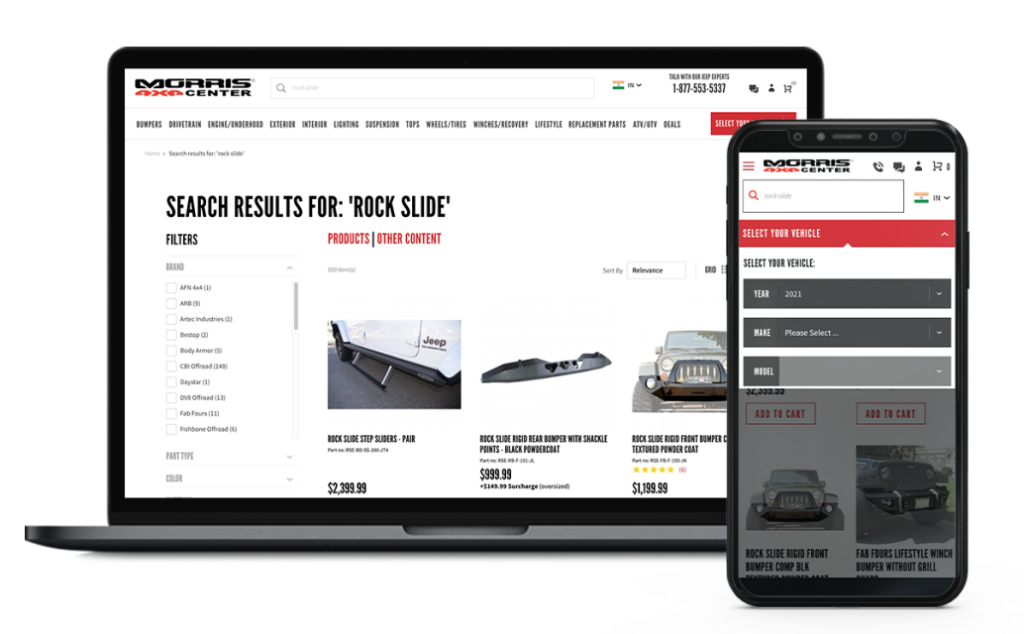 B2B Vertical Focus: Food
Typically there's been a reluctance in the Food and Beverage industry to make the switch to ecommerce. This is mainly due to the unique challenges faced in this particular industry, as both businesses and consumers may have felt more comfortable buying and selling the more traditional way. However, the Covid pandemic provided the catalyst for this ecommerce push – whether it's someone doing grocery shopping from the comfort of their home, ordering a takeaway during their remote working session, or a restaurant getting food supplies to fulfill orders without having the fear of running out of ingredients.
For complex B2B retailers in this industry, potentially juggling multiple storefronts, suppliers and customer groups, on top of an intricate and diverse product range, things can quickly become complicated.
A case in point is A.F. Blakemore, a major supplier to Spar businesses. The B2B retailer struggled to leverage its product data to create a good product discovery experience. However, the company decided to integrate Klevu's powerful Smart Search and Smart Category Merchandising features which utilized different feeds and showcased products based on shopper intent, rather than just the most popular products.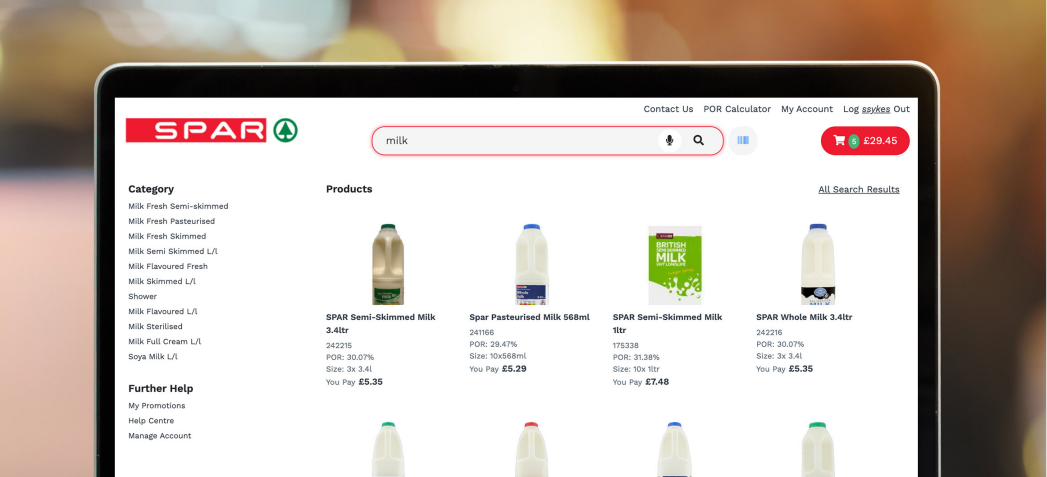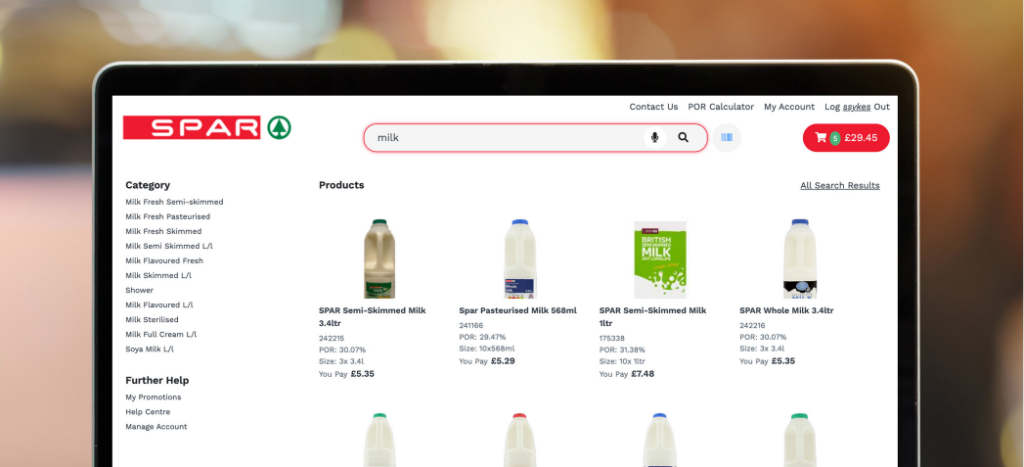 B2B Vertical Focus: DIY
There was a huge boom in DIY activities during the pandemic, with home improvement and gardening activities growing by almost 50%, compared to the same period a year before. According to Diginomica, B&Q experienced a 117% jump in online sales during 2020, while Screwfix performed even better at a 146% increase, which further emphasizes the growth of this sector. Recent surveys the Kingfisher conducted of their customers showed that 20% of 18-35 year olds were carrying out DIY projects for the first time, 55% increasing the amount of DIY they have done and 65% feeling more
confident in their DIY skills, which contributed to a huge chunk of their overall sales.
When it comes to DIY, online retailers in this sector typically have an expansive product catalogue, and without Natural Language Processing enabled things like SKU search or searches using descriptive terms rather than product names can become problematic. In addition, many B2B websites are both B2B and B2C, so tailoring these websites to work for the general public as well as tradespeople can also be a pain point for these retailers.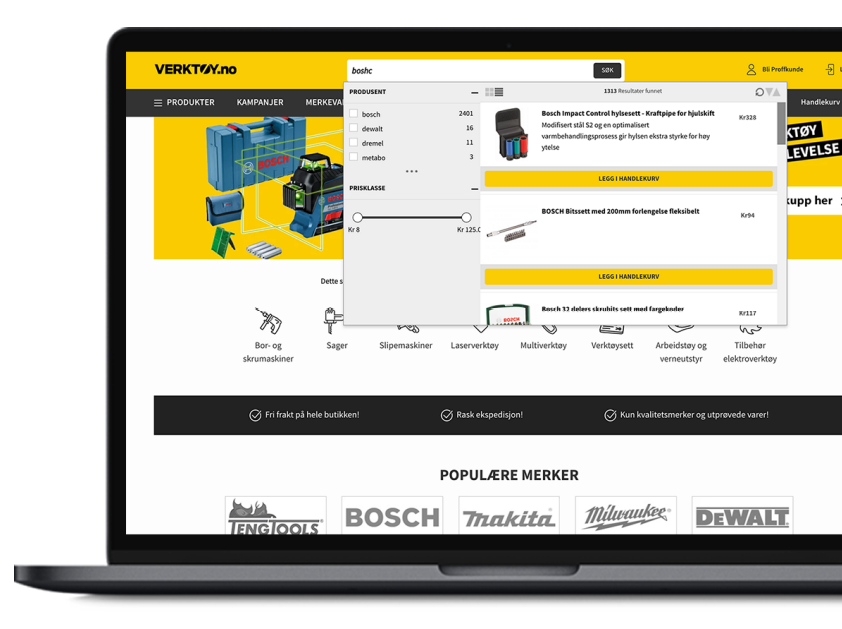 A perfect example of a company experiencing these issues is Verktøy, a Norwegian B2B and B2C business that sells building and DIY supplies and machinery. Boasting a large, complex product catalog, the website needed a product discovery optimization tool to help customers easily find specialist items. The Verktøy ecommerce team needed the search to be able to handle misspellings as well as understand shopper intent and inflection, whether they searched by brand, description, sentiment, or even measurements. Klevu Smart Search injected synonyms into the already large product catalogue allowing for relevant results to be displayed even if shoppers were using conversational and complex terms.
Wrapping Up
As B2B buyers' needs evolve, businesses must adjust their approach to selling online. By focusing on replicating as much of the B2C experience as possible while still keeping in mind the complexities of B2B, you should have the right strategy in place to succeed in today's world.