Ebook
Discovered Magazine: Black Friday, Cyber Monday: Acquisition, Retention & Beyond
However you usually do peak season, it's never too late to learn something new. Get ready to kick off peak season with a bang!
What's inside?
From quick wins to checklists, to what not to do, this edition of Discovered Magazine aims to provide retailers with tried and tested advice from Klevu partners who have years of eCommerce experience that you can trust. It'll also cover how you can convert lost sales in abandoned carts and how to retain your new customers when peak season is over and maximise customer lifetime value.
However you usually do peak season, it's never too late to learn something new. Get ready to kick off peak season with a bang!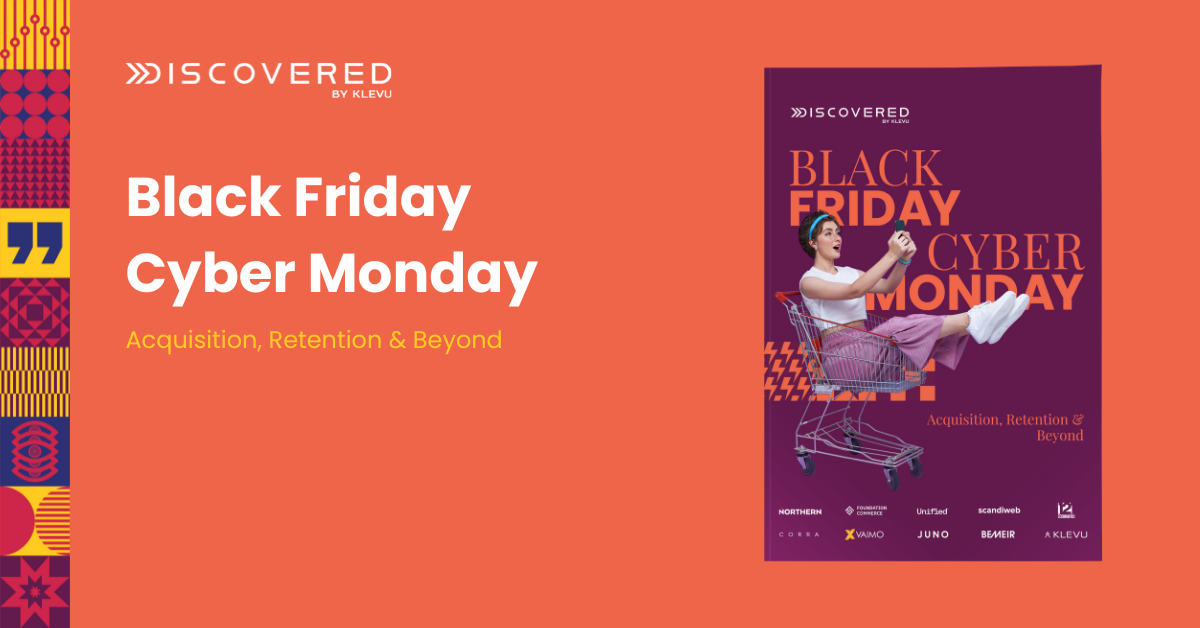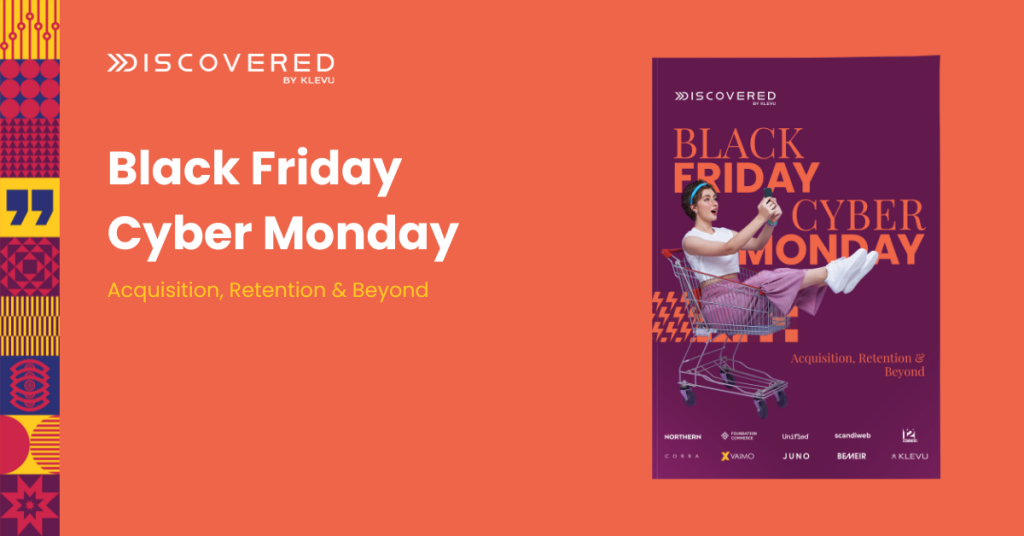 Executive Summary
Black Friday and Cyber Monday are busy shopping days, but with the right preparation, your business can benefit greatly from the influx of shoppers. Following these tips will help ensure that your website is optimized for success and increase your conversion rate. So, start planning now and get ready to make the most of the holiday season.
Our trusted Klevu partners have incredible services and technologies that can help you maximise your ROI, ensure your customers a great online experience and overcome hurdles to ensure you have the best Black Friday and Cyber Monday yet! Special thanks to Northern, Foundation Commerce, Unified, Scandiweb, 121eCommerce, Corra, Vaimo, Juno, and Bemeir.
We hope it educates and inspires.
Table of Contents
This 38-page guide features holiday tips from the following Klevu partners:
Northern talks about essential email retention strategies for retail brands in 2023.
Foundation Commerce discusses their top 5 tips to boost your sales and ensure a successful and profitable holiday season.
Unified drives home the importance of getting prepared for peak season and shares their top 5 tips.
Scandiweb talks about how to improve your infrastructure, functionality, and perform data analysis to prepare for the 2023 holiday season.
121eCommerce talks about the importance of reporting on campaign performance, to see what can be improved upon and what can be repeated in the future.
Corra talks about how A/B testing different strategies and composable commerce solutions can improve the checkout experience.
Vaimo gives their top 5 factors that can derail Black Friday 2023 & gives tips to avoid them.
Juno shares their proven strategies for a successful BFCM.
Bemeir explains that by preparing your teams and promoting communication you are ensuring your success.
Klevu talks about how you must connect shoppers with the products they want to buy with AI powered product discovery.