Blog
Interview: Why and how to optimise product discovery user experience
by Klevu on
Covid challenged many retailers. Many had to scale up ecommerce quickly and learned a lot as a result. I interviewed Daniel Larsson, Head of SEO at Kronans Apotek, a leading pharmacy in Sweden with 325 pharmacies nationally and a fast-growing online channel. He shared with me how he has used Klevu on-site search, 'merchandising', and analytics to work smarter, not harder.
Mattias: So, what is on-site search and why is it important?
Daniel: First of all, onsite search is a very common way to navigate ecommerce websites. Therefore, your search experience is very important. Customers that are using search convert 4 times more than non-search traffic. But site search is not only for shoppers that are looking for a specific item. A good on-site search experience can help shoppers find what they are looking for even if they don't know exactly what that is.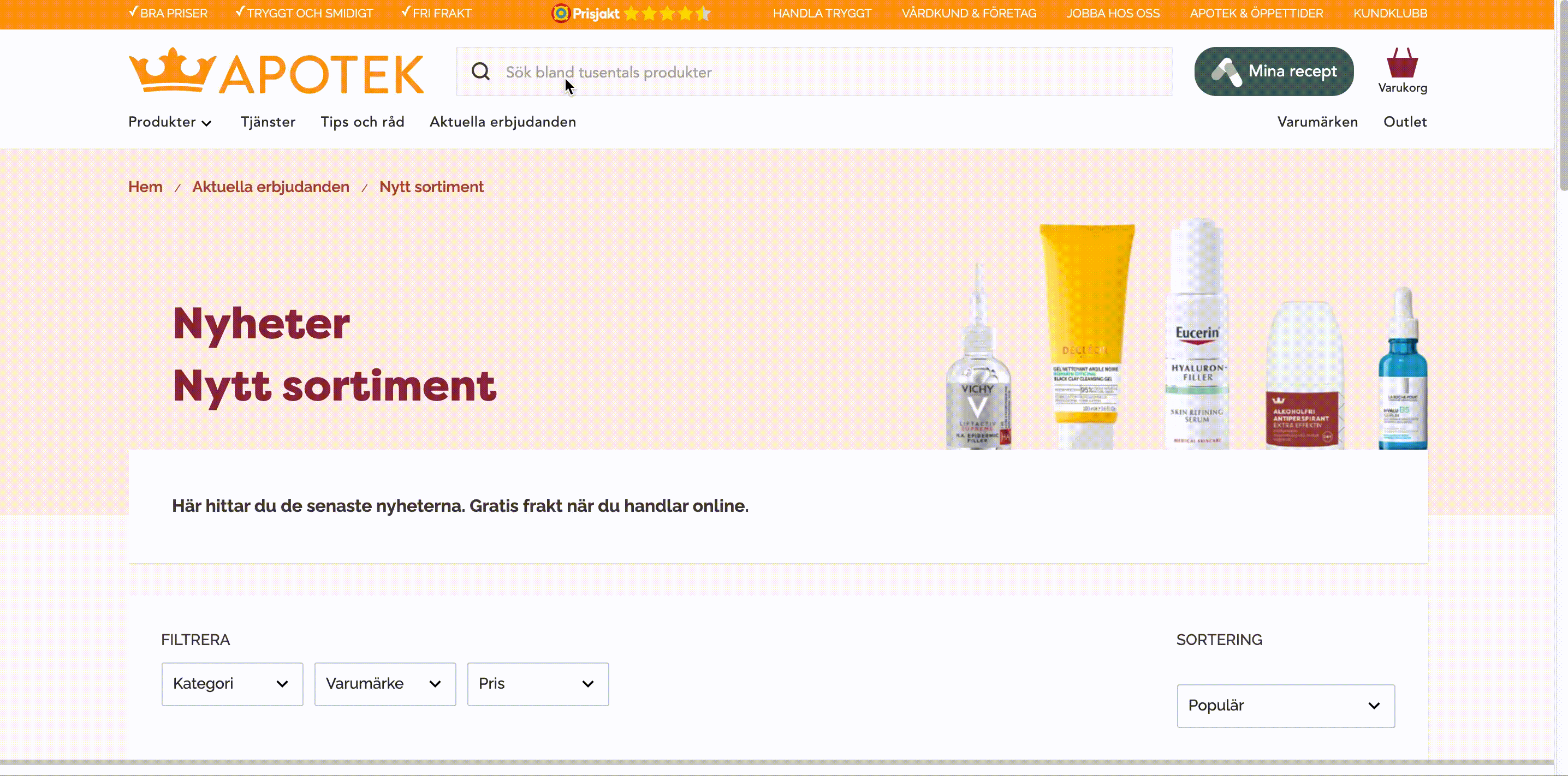 M: How does on-site search work for you?
D: I believe that search can be the best way to navigate a website. Retailers need to think of the search experience as a way to communicate with shoppers, rather than simply a tool to find products. The search overlay is a great way to do this too.
Klevu's search results are driven by AI and are automated. This is hugely important for me because I only have to tweak it here and there, and then the website is optimized.
M: How do you analyze search data and what do you use it for? How can other retailers learn from this?
D: The data from the search is a treasure trove of trends. By identifying what shoppers are searching for, you can inform your organic and paid marketing efforts.
Planning and prioritization are key to a good SEO strategy. Looking through trends in search data helps me prioritize which landing pages to create first in order to gain traction on Google ahead of an event or season. For paid media strategy, keywords used on ecommerce stores by actual shoppers can help you bid on the right terms and optimize landing pages effectively.
Data from on-site searches can also help inform buying strategies. For example, if you are getting a lot of shoppers searching your website for a brand that you don't stock, you should look into stocking it. Analyzing searches with zero results helps your business stay current and optimized for your customers. This has become even more important during the Covid-19 breakout as shoppers' needs change frequently.
M: We recently published a report in the UK, the Ecommerce Discovery Report, the research found that a majority of on-site retail search engines can't process natural language or misspellings and return relevant results. This is especially important as voice search is on the rise. How do you think this relates to the Nordics market?
D: This doesn't surprise me that many search engines for ecommerce websites can't process complex queries. Shoppers who use search and can't find what they are looking for will likely think a retailer doesn't have the item and move on. And this is when it comes to Nordic languages, the phrasing is often even more complex, and even small misspellings can return zero results with the wrong technology. Klevu is built like a Google search engine, so it just works in many languages.
M: Good point! Do you have any tips for optimizing search?
In my experience, customers that use onsite search convert 4 times more than non-search traffic. That's a powerful case for making search the easiest and more attractive journey on your website. You want shoppers to use search. Make it easy for them.
There are several main elements to a well-performing site search, but here are some top ones from my experience:
Have the search box clearly visible on the page load with text in the box that helps shoppers know what they can search for, e.g. brand, advice, and products. This applies to mobile as well as desktop – a persistent search bar on mobile can increase conversions on mobile significantly.
Show a search overlay that starts showing products and relevant content right away when the shopper types into the search.
Ensure the on-site search can handle natural language, meaning that it can identify nuances of spoken or typed language to identify shopper intent and search all available product data to return only relevant results.
M: What about (forgive me) 'searchandising'?
D: Not loving that word, but sure. AI is the backbone of a great on-site search. It means I don't have to worry about relevancy or whether or not I've had time to merchandise. However, it is really valuable to be able to tweak and train the AI to align with my strategic goals and campaigns. The key to optimizing search is to make sure that your product data is correct. A great on-site search tool will actually augment your existing product data and add all contextual relevant synonyms.
We use the merchandising tool within Klevu on-site search to boost or demote products on listing pages. We do this in a few ways. Firstly, monitor keyword trends from within the admin panel or Google Analytics. From there, ensure there are relevant synonym matches, as well as boost or demote products using that trending search data as a guide.
I hope this has helped other ecommerce professionals realize the value and potential of using search data to really optimize your online stores. Here are some key takeaways, from the conclusion.
Native search used by ecommerce platforms just isn't good enough, get a specialist provider that can help you with catalog enrichment, NLP, and automation. We use Klevu.
Ensure you can make changes to your search and merchandising yourself because you don't want to be asking for help from your product discovery provider every time you need to make a change.
Merchandise, yes, but also trust the AI. Shoppers on your website offer incredibly valuable data. Utilize that site-wide to personalize the shopping experience for them and watch your conversion start to grow.
Further resources: