Blog
3 Manual Merchandising Tasks That Retailers Should Automate Today
by Klevu on
E-commerce teams have never been busier. Work smarter, not harder, with automated merchandising.
The pressure on the e-commerce industry has never been higher. The challenges of the current retail environment mean that now, more than ever, teams need to be looking for ways to streamline their processes and maximize the bandwidth of their talented teams.
When it comes to merchandising, automation is the way to achieve these goals. In 2020 there's simply no need to be fully reliant on manual processes.
Klevu's AI and algorithmic advances provide a powerful timesaver, at the same time as improving sales and conversion rates.
Read on to learn about three areas of merchandising where you might be working harder than you need to!
1. Automate to Accumulate: Smart Category Navigation
Imagine being freed from the need to manually order your products, secure in the knowledge that they're being regularly and intelligently optimized in their ranking.
Klevu's AI algorithm automatically optimizes the ranking order of the products on your category pages. At the same time, our powerful machine learning connects with site search patterns to deliver maximum optimization in ranking order on navigation pages.
Driven by data and the ever-evolving behavior of your customers, this real-time fine-tuning of your product order has a tangible impact on sales. The perfect products will consistently end up in front of the right audience.
While the process is entirely automated, as a retailer you'll still want the opportunity to apply your own experience and product knowledge. This is where the option to augment product ranking based on business rules comes into play. By applying rule-based constraints to your merchandising, you have efficient control over the finest detail.
This all adds up to huge timesaving potential, but Klevu provides a double benefit — a reduction in overall workload and the impressive end results of optimization on conversion rates.
2. Nuts and Bolts: Merchandising to Variant Level
Our customers often cite the time-saving powers of automated merchandising when talking about their favorite Klevu features. But they're also delighted when they discover the extent to which our algorithm operates.
The capacity for automated merchandising can function right down to variant level. Not only are your most popular, highly converting products automatically boosted – your customers will also see the most popular variant prioritized in the results page, regardless of your default image.
An example of this is MIA Shoes, whose collection pages pull the best selling color variant of each product through for display, as well as optimizing the order of the products themselves.
Eliminating the need to start manually digging through data to achieve the same effect frees up significant time. What's more, as the process is fully automated, these customizations will be constantly monitored and updated by Klevu's software, ensuring they change to reflect shifting consumer behavior over time.
3. Narrow the Search, Win the Sale: Dynamic Facets
Once a customer has shown interest in a particular product by initiating a search-led journey, it's vital to ensure that they not only find what they're looking for, but do so in the most efficient and informed way possible.
This is where Klevu's dynamics facets come into play. This feature automatically maps product attributes to provide these perfectly tailored filters on each category listing page. Again, thanks to automation, each and every search your customers perform will produce an instantly relevant and absolutely accurate array of filter options.
The experience can be further optimized through the inclusion of sorting options such as ascending or descending price. To see a great example of dynamic facets in action, explore our customer Manduka's site.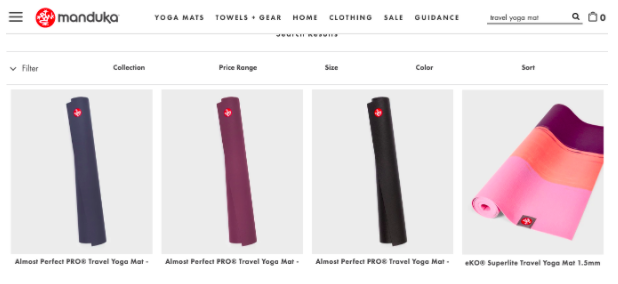 Automated dynamic facets offer a fantastic way of sidestepping the overwhelm that a huge display of largely irrelevant options can induce. Instead, it's a speedier, frustration-free route to selection and ultimately, conversion.
Conclusion
It's always been important for online stores to be as efficient and optimized as possible. But as competition in the e-commerce industry grows, it's essential to embrace the edge offered by automation.
Klevu offers exceptionally powerful automated merchandising capabilities right out of the box and can be trusted to get amazing results, both from its standard features and powerful add ons. You're up and running right away.
And with proven ROI potential, it's a win-win situation. More time to focus on other elements of your store's performance, and an ever-improving experience for your happier customers.
To learn more about how Klevu's automated merchandising could save your team time while driving sales, schedule a demo.