BigCommerce Product Recommendations
Increase the conversion impact of your BigCommerce product recommendations
Make shoppers love your product recommendation with Klevu AI. Create BigCommerce shopping experiences that convert and drive your revenue growth up to 6%.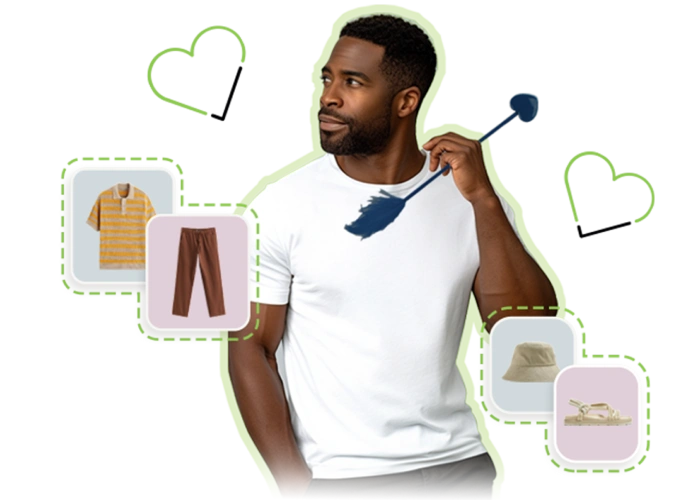 Case Study: Sarah Raven

Dr Barbara Sturm used Klevu AI search and merchandising to achieve 61% click-to-conversion rate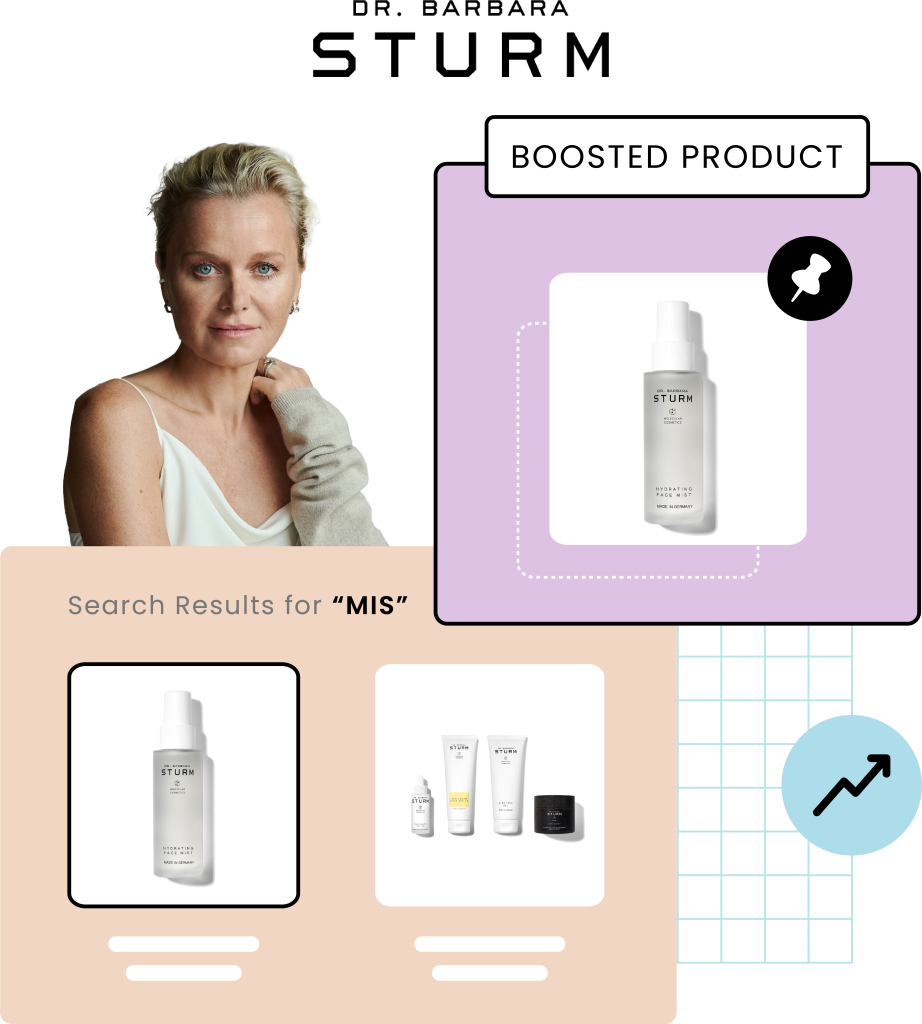 Case Study: Bulk Candy Store

An ecommerce makeover for Bulk Candy Store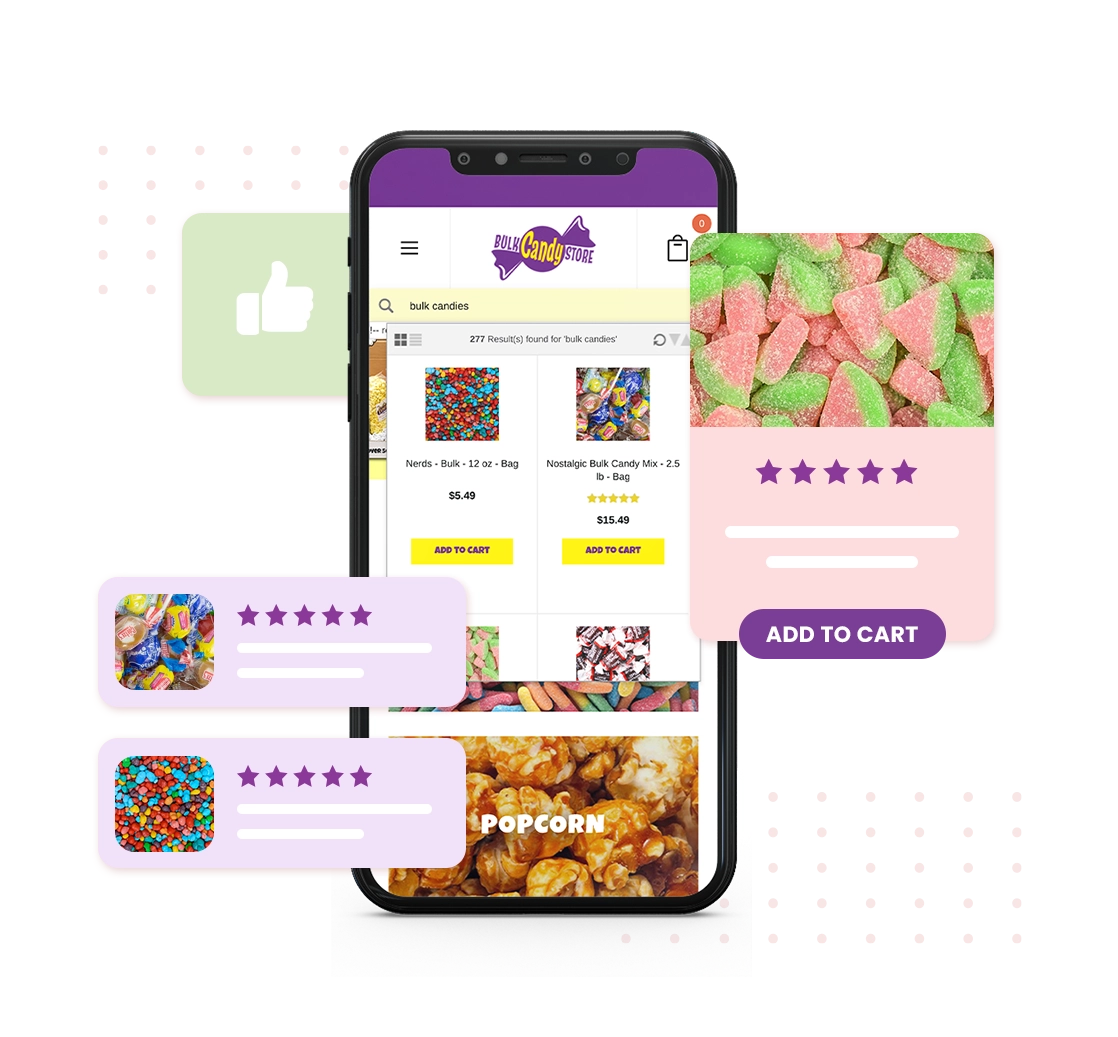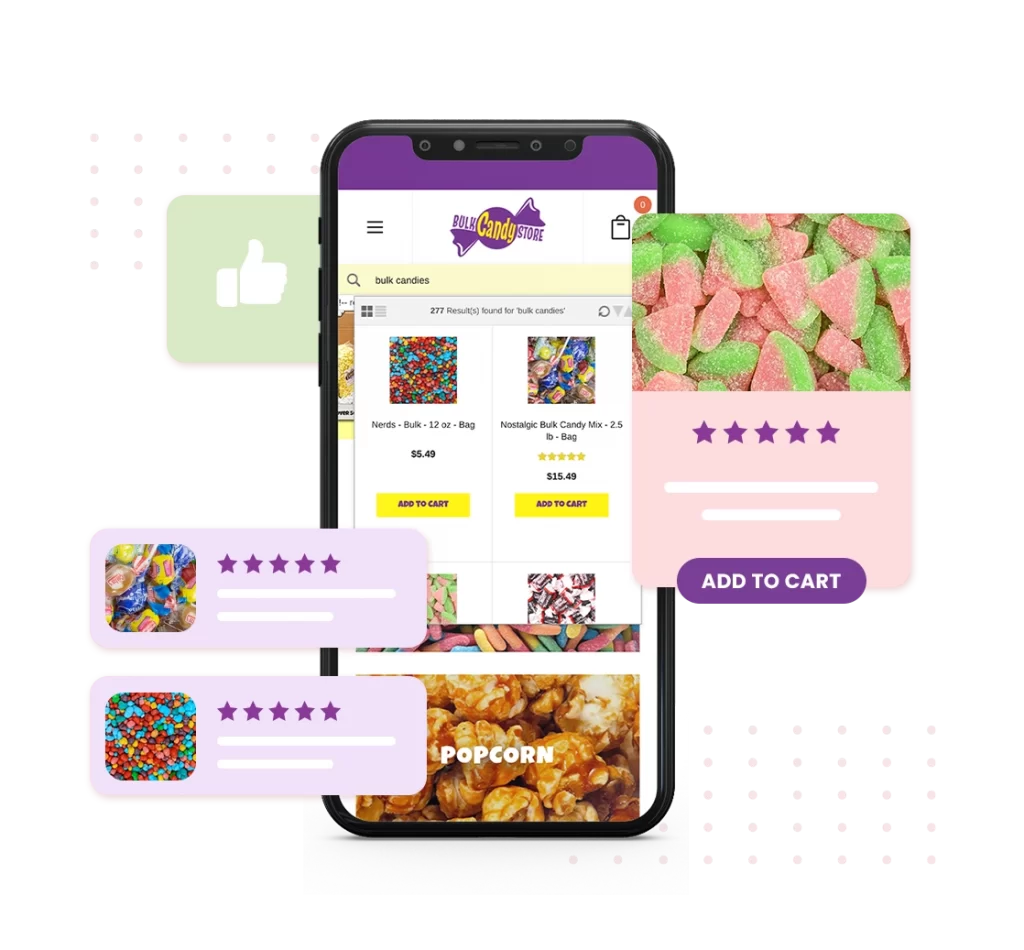 Case Study: Sarah Raven

52% more revenue from search for Sarah Raven, with BigCommerce, Space48 and Klevu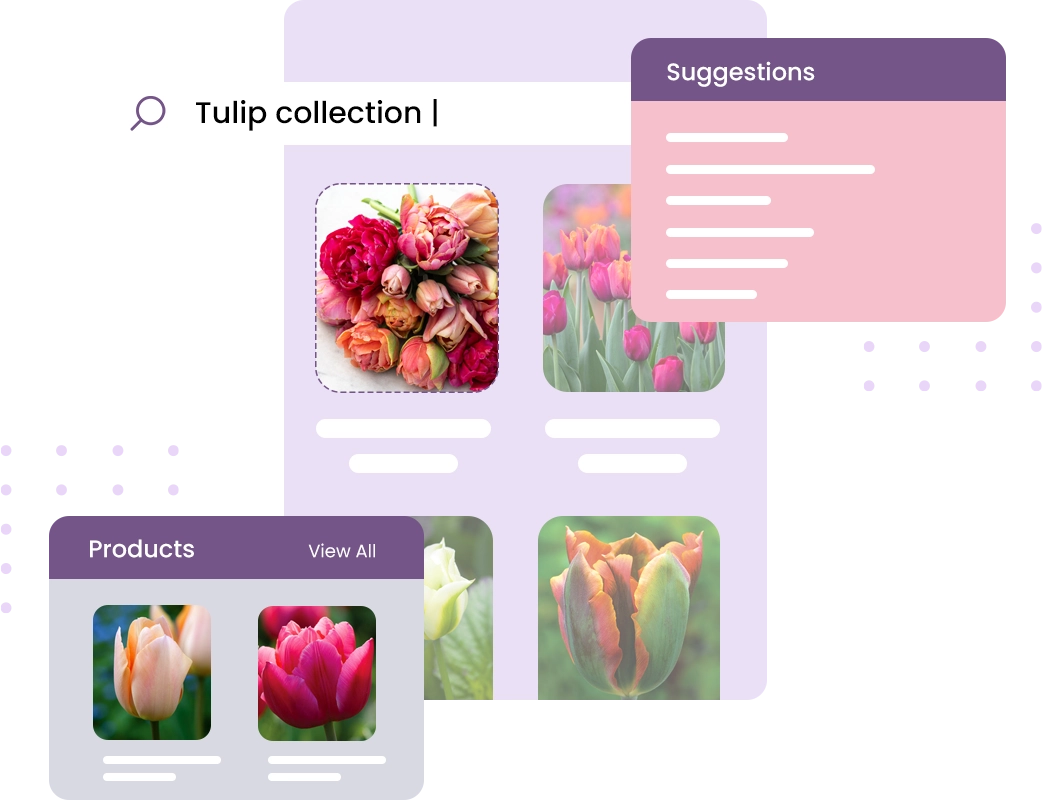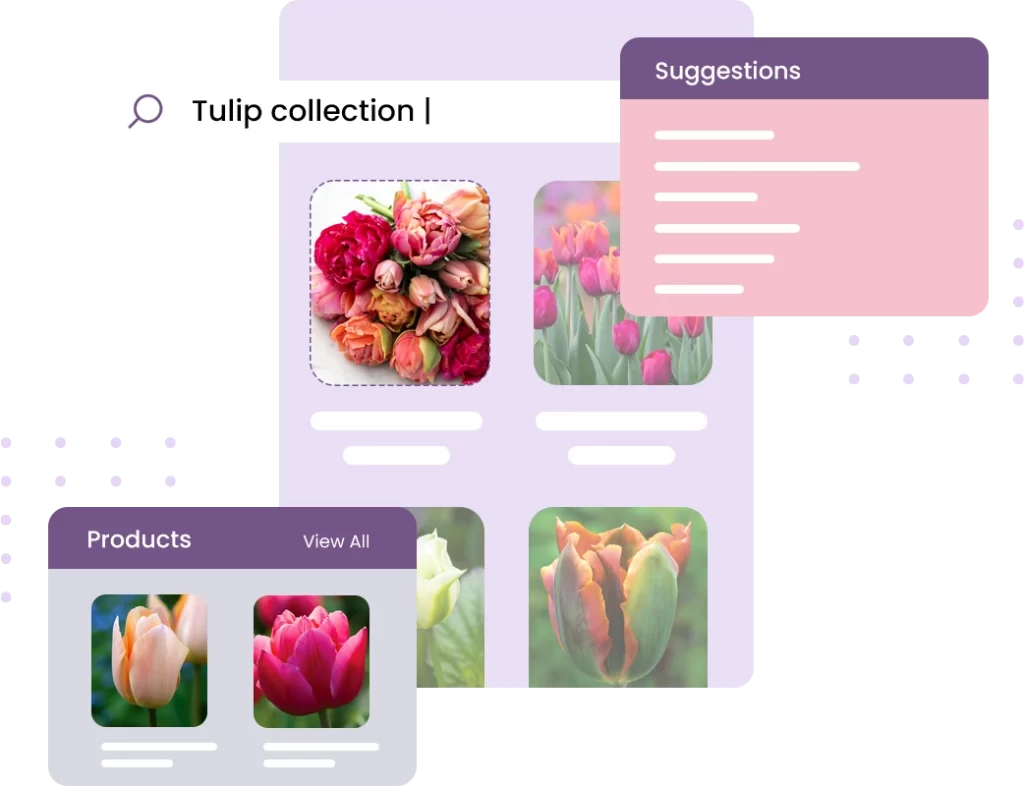 AI Product Recommendations
Revolutionize your BigCommerce experience with artificial intelligence
Embrace the future of ecommerce with cutting-edge AI product recommendations. By integrating artificial intelligence technology, personalize each shopper's experience like never before. Our software digs deep, understanding patterns in search, customer behavior, purchases, and clicks, then uses that knowledge to recommend products that they're sure to love.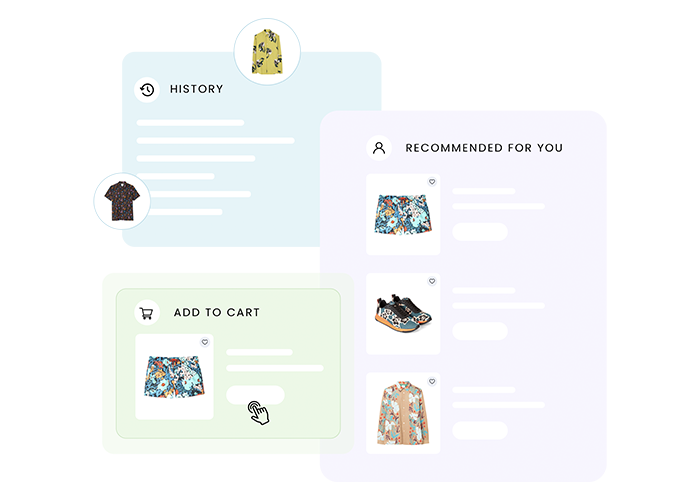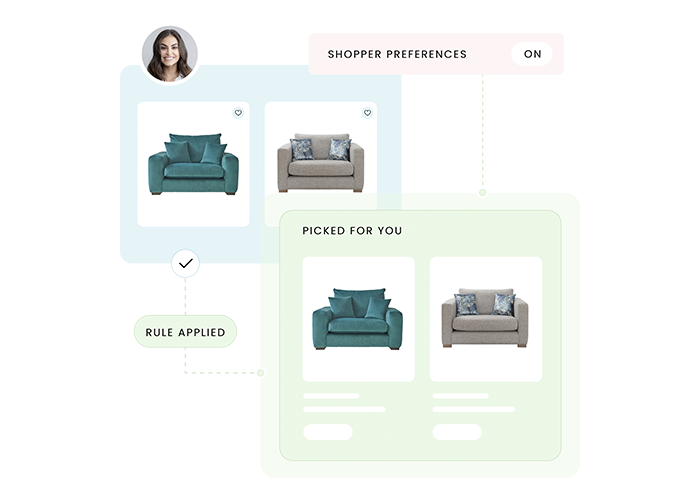 Personalized Product Recommendations
Keep your BigCommerce recommendations in sync with shopper preferences and business rules
Sync your ecommerce strategy with your customers' evolving tastes. Our system seamlessly adapts to each shopper's unique preferences, ensuring they always discover products that resonate with their current desires.
Product Recommendations Integration
Seamless integration, powerful results
Our robust API, plugins for key ecommerce systems, and Javascript library are designed to fit into your tech ecosystem effortlessly, ensuring maximum flexibility to suit your unique tech environment. Craft the personalized shopping journey your customers deserve for powerful results that propel your ecommerce success.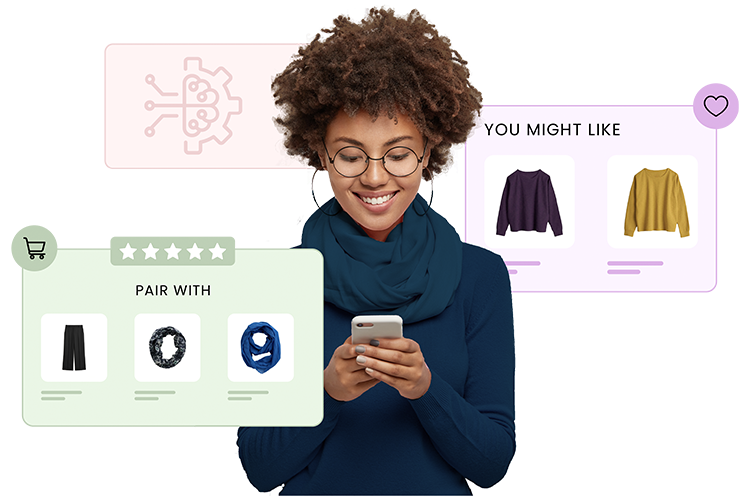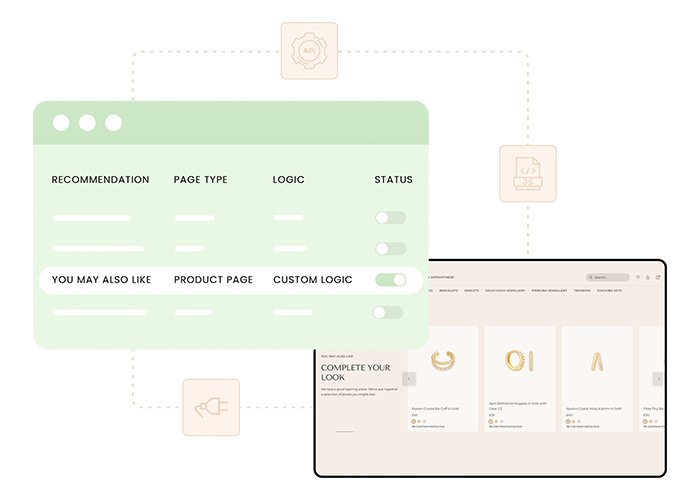 Product Recommendation Engine
Enchant your shoppers with our AI-powered recommendation engine
Take control of your ecommerce strategy with our recommendations engine. With a variety of automated and advanced features at your fingertips, you'll be equipped to curate an unforgettable shopping experience that improves customer retention and conversion.
Customize algorithms to suit your goals. Clicks, purchases, and product reviews influence the AI to optimize results, dynamically driving more revenue.
Your shoppers deserve the most advanced linguistic processing to help them find what they want on your website.
Using clickstream, segmentation, and collaborative filtering, you can use Klevu to personalize even new and anonymous web visitors.
Ecommerce Integrations
Easily connect Klevu AI with your ecommerce platform
Advanced AI technology isn't just for giants like Amazon anymore. Ensure a smooth development process with Klevu documentation and 24/7 support. Effortlessly build your own integration using our SDKs and APIs or use our pre-built ecommerce connectors and JavaScript library.
BigCommerce Product Recommendation Features
Measurably better product recommendation features for your BigCommerce business growth
Elevate your BigCommerce product recommendation strategies with Klevu AI. Track the data and shape the user experience, and our AI automation will deliver measurable growth results.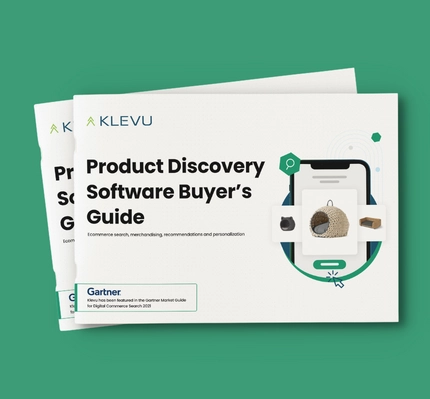 Download the Search & Product Discovery Buyer's Guide to share with your team.
Optimize product positions on your landing pages with data from your own shoppers, plus set-and-forget strategic rules for inventory levels, out of stocks, margin, and more.
Trending Products
Related Products
New Products
Highly Rated Products
Cross-Sells
Best Selling Products
Hand-Picked Products
Fine-tune product results using easy-to-apply strategic rules, product pinning and exclusion, and simple drag-and-drop interfaces.
Klevu's A/B and multivariate testing tools for merchandising make it easy to decide what works best for your shoppers on your category and collection pages.
Optimize major campaigns, uncover new tactics, reduce friction in the customer journey and avoid missed opportunities for revenue growth.
Visual GUI Editor
Easily switch off or on for individual Klevu products, and edit how the solution looks and works using pre-built templates.
Architecture & Infrastructure
Scale your store with cloud-native and headless technology
Unlock limitless scalability and agility for your ecommerce store with our cutting-edge headless architecture and our secure, cloud-native infrastructure.
Klevu is the most advanced AI product discovery technology in the MACH Alliance. We challenge how modern retailers, brands, and solution integrators think about headless architecture.
Scalable, fast, and secure, Klevu offers a 99.99% uptime guarantee, real-time status reporting, global data centers for failovers and load balancing, and dedicated infrastructure options.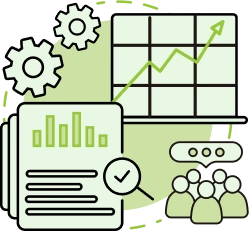 Ecommerce Search & Discovery Platform
Uncover growth opportunities for your ecommerce business
Grow revenue with better search & product discovery
Increase revenue per web session by 37% with Klevu Search & Product Discovery Platform.
Continuously optimize and drive growth faster
Deliver relevant search & product discovery results with Klevu's powerful and personable search, merchandising, and recommendation engine built exclusively for ecommerce.
Understand customers on every level
With Klevu's deep integrations with your ecommerce platform, our AI can understand nuances based on customer behavior and intentions which you can analyze.
Client Testimonials
Here's why retailers Klevu
"We've found that using Klevu AI increases AOV, on site customer experience, CLV, and ROAS."
"Now with Klevu, we have time and resources available to focus on scaling the business."
"Klevu really works out of the box. We have been impressed by the flexibility of the APIs – straightforward, well documented, stable and working as advertised."
"Klevu has allowed us to bring a feature set to our client that allows their customers to shop more efficiently."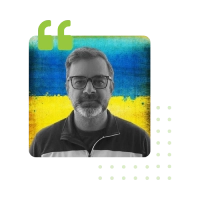 Support Services
Technology that works and people who care
You don't have to do it alone. Ensure you have a support team by your side that is highly responsive, knowledgeable, and hard-working.


Let's grow together
Take the next step, tell us your goals, and let us exceed them together.